A Key Obama Treasury Nominee Now Needs Even More GOP Votes to Save His Job
Antonio Weiss has already lost six of 55 potential Democratic votes.
By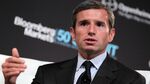 For weeks, Massachusetts Senator Elizabeth Warren has been arguing that the White House needs to dump its nominee for undersecretary for domestic finance. She's said it in columns and speeches, and rebuttals to his defenders: Antonio Weiss, global head of investment banking at Lazard Ltd., cannot be trusted in the job.