A Key Obama Treasury Nominee Now Needs Even More GOP Votes to Save His Job
Antonio Weiss has already lost six of 55 potential Democratic votes.
By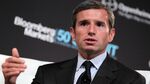 For weeks, Massachusetts Senator Elizabeth Warren has been arguing that the White House needs to dump its nominee for undersecretary for domestic finance. She's said it in columns and speeches, and rebuttals to his defenders: Antonio Weiss, global head of investment banking at Lazard Ltd., cannot be trusted in the job.
"We'd all scratch our heads if the president nominated a theoretical physicist to be Surgeon General just because she had a background in science," Warren said in a speech this week. "It's no less puzzling to nominate an international mergers specialist to handle largely domestic issues at Treasury because he has a background in finance."
The Huffington Post's Ryan Grim and Jennifer Bendery have been dogging Democratic senators with Weiss questions, and found that New Hampshire Senator Jeanne Shaheen, West Virginia Senator Joe Manchin, Minnesota Senator Al Franken, Vermont Senator Bernie Sanders, and even Illinois Senator Dick Durbin–an old Barack Obama ally–opposed Weiss.  On Thursday, Wisconsin Senator Tammy Baldwin confirmed that she'd oppose the nomination.
"I do not believe Mr. Weiss is the right nominee to push for strong oversight of Wall Street and protect the interests of Main Street," said Baldwin in a statement. "Based on his record and qualifications as a Wall Street investment banker I don't have confidence that he will work to even the playing field for middle-class families and small businesses who need a fair shot to get ahead. With Wall Street lobbyists and Republicans working harder than ever to gut the Dodd-Frank Wall Street reform law, working families need public servants who are committed to remembering the hard lessons of the financial crisis. In addition, Wisconsin's small businesses and homebuyers—as well as the community banks and credit unions that serve them—need a stronger voice in financial policymaking to provide services that work for Main Street, not Wall Street. Regrettably, I do not believe Mr. Weiss is the right choice for this position and I will oppose his nomination."
With Baldwin's move, Weiss only has 48 potential confirmation votes from Democrats in the current Senate. He'd need Republican support to get through the Senate. Luckily, as Bloomberg's Jeanna Smialek reported, he already has the backing of incoming Finance chair and Utah Senator Orrin Hatch.
But that's the problem–it's Hatch, not Democrats, he has to deal with. Weiss won't get a vote until 2015, when the Democratic conference is reduced to 46. Only 39 of them are now open to supporting him. That means Weiss will need even broader Republican support. Warren's campaign is turning him, effectively, from the White House's pick to the first nominee of the new Republican Senate.
Until then, the Obama administration continues to back Weiss. At a Thursday breakfast put on by the New York Times's DealBook, Secretary of the Treasury Jack Lew called Weiss "someone who has experience in the markets in the financial world," rebutting Warren without contradicting her.
"I think Antonio is extraordinarily well-qualified who comes from a background as strong as one could ask," said Lew. "We think he's a strong candidate. We're going to continue to press the case forward with the new Congress."
Correction: An earlier version of this article incorrectly said Antonio Weiss was formerly with Lazard Ltd.