Modi Window to Revamp India Economy Never Wider as Oil Dips
Unni Krishnan and Rakteem Katakey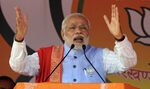 If Prime Minister Narendra Modi is serious about overhauling India's economy, 2015 presents a golden opportunity.
Oil prices have fallen to a five-year low, inflation is easing, the current account deficit has narrowed and investors are betting the U.S. Federal Reserve won't raise rates until June. Only two of India's 29 states will hold an election next year, and Modi holds a majority in the lower house for the first time in three decades after his landslide election win in May.
"Very rarely do you see something like this," Saugata Bhattacharya, a Mumbai-based economist at Axis Bank Ltd., said in an interview last week. "What more can they possibly want?"
India's growth prospects are rising as other emerging markets including China slow down, making its benchmark stock index among the best performers this year. Modi's ability to raise living standards among India's 1.2 billion people hinges on engineering the biggest transformation of Asia's third-biggest economy since Soviet-inspired controls ended in 1991.
"Luck is one thing and using it to your advantage is another," said Kamlesh Kotak, Mumbai-based head of research at Asian Markets Securities Pvt. "Everyone will be waiting to see how the prime minister can turn this opportunity to India's advantage."
The next few months are crucial. Bills to allow more foreign investment in insurance, simplify labor rules, allow private companies to sell coal, and implement a country-wide sales tax are under consideration in a parliament session ending Dec. 23.
Budget Milestone
The next major milestone is Modi's first full-year fiscal budget in late February. That's where crude oil's 41 percent fall this year could prompt him to start the process of eliminating subsidies for cooking gas, kerosene and fertilizer, similar to what he did for diesel in October.
India was the world's third-biggest crude oil importer in 2013 behind the U.S. and China. Oil-related subsidies accounted for 4.4 percent of India's total spending in the year through March, almost triple what it spent on health.
Brent crude has declined to the lowest in more than five years after the Organization of Petroleum Exporting Countries last month decided against reducing supplies to make up for the global glut as the U.S. pumps crude at the fastest pace in about three decades. Brent in London has averaged $101.75 a barrel this year. Prices will be $89 a barrel in 2015, according to the median estimate of 29 analysts surveyed by Bloomberg.
'Plain Lucky'
That's a boon for India. Every $10-a-barrel decline in oil prices can boost India's gross domestic product by 0.1 percentage points; lower wholesale price inflation by around 0.5 percentage points; improve the annual current account balance by around $9 billion, or 0.5 percent of GDP; and improve the fiscal balance by 0.1 percent of GDP, Nomura economists led by Sonal Varma wrote in an October report.
"The government is plain lucky," said N.R. Bhanumurthy, an economist with the taxpayer-funded National Institute of Public Finance and Policy in Delhi. "There can be no better time to tackle subsidies and initiate measures that can be perceived as politically unpopular."
So far the government has done the easy part in lowering prices as crude declines. State-run Indian Oil Corp., the nation's biggest fuels distributor, has cut gasoline prices seven times since August, according to its website. The company also reduced non-subsidized cooking gas prices by 15 percent and jet fuel by 4.1 percent starting Dec. 1.
Tougher Steps
It'll be tougher to drop subsidies on liquefied petroleum gas and kerosene, used by millions of Indians for cooking. These two fuels and diesel cost the government 707 billion rupees ($11 billion) in the last fiscal year.
Dropping the discount on fertilizer would also send a positive message, according to Samiran Chakraborty, an economist at Standard Chartered Plc in Mumbai.
"Once these steps are undertaken then it can free up space for more fiscal spending on the investment side," he said.
India threw open its economy to foreign investment and dismantled a licensing regime in 1991 to avoid defaulting on some of its $84 billion in overseas debt. The move was steered by then finance minister Manmohan Singh, who saw subsidy payments expand during his 10 years as prime minister that ended in May.
Past Delays
While petroleum expenditures are coming down, they only account for a quarter of India's 2.6 trillion rupee subsidy bill. Outlays on food were budgeted to rise 25 percent to 1.15 trillion rupees in the year through March.
Modi's Bharatiya Janata Party has balked at making big changes in the past. In 2002, the last time the BJP held power, it reversed a decision to free prices of gasoline and diesel once crude prices started rising. It then lost the 2004 election and spent 10 years in opposition before its victory in May.
The government shouldn't step back this time, according to Rajeev Malik, a Singapore-based senior economist with CLSA Asia-Pacific Markets. A key risk is that easing macroeconomic pressures such as the drop in oil prices may lead to a "go-slow attitude" on moves to fix the economy, he said.
"Whatever the evidence around Prime Minister Modi's prior magical abilities, eight-percent-plus growth will have to be earned," Malik said. "It isn't pre-ordained, even for Mr. Modi."
'Exploit It'
A light election calendar makes it more probable that Modi can make politically unpopular decisions without suffering at the polls. Two state elections are likely next year, compared with five in 2016.
Prices are also rising at the slowest pace in at least two years, prompting analysts to expect a drop in interest rates next year. Reserve Bank of India Governor Raghuram Rajan said earlier this month he may cut the main rate early in 2015.
India's $1.9 trillion economy may expand 6.4 percent in the year through March, the International Monetary Fund said, rebounding from last year's 4.7 percent, near the slowest in a decade. That compares with growth of 7.4 percent in China, 0.2 percent in Russia and 1.4 percent in Brazil.
The combination of easing price pressures and faster growth would support Modi's plan to cut the budget deficit to a seven-year low. Improving prospects for Asia's third-largest economy have spurred international investors to pump an unprecedented $24 billion into Indian bonds in 2014 and prompted Standard & Poor's to upgrade the sovereign credit outlook in September.
India's benchmark stock index fell 0.9 percent while the rupee weakened 0.3 percent as of 11:35 a.m. in Mumbai. The yield on the 10-year sovereign bond fell to 7.88 percent from 7.91 percent yesterday.
"It's a window of opportunity and a good leader would exploit it," said Vishnu Varathan, a Singapore-based economist at Mizuho Bank Ltd. "He should tactically move in at this time."
Before it's here, it's on the Bloomberg Terminal.
LEARN MORE