In Austerity-Weary Ireland, Having to Pay for Water Is the Last Straw
By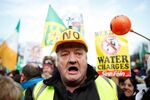 The Irish have stoically endured six years of austerity. But they're drawing the line at having to pay for water.
Tens of thousands of people poured into the streets of Dublin and other Irish cities on Wednesday in an angry protest against the government's plan to start billing for water and sewer service. Ireland is one of only two countries in the world (Turkmenistan is the other) that provide free water to residents, according to Global Water Intelligence, a British research outfit.
The demonstration capped an emotional campaign by labor unions, human rights advocates, and others who contend that access to water is a God-given right. "Water is so potent, even St. Patrick didn't mess with it," playwright and novelist Michael Harding wrote this week in the Irish Times, in a column evoking images of holy water and springs with miraculous healing powers. "And now our masters want the water."
The campaign also is drawing support from activists in Detroit who are fighting that city's move to shut off service to thousands of customers with large unpaid water bills. Representatives of the Detroit Water Brigade, a local protest group, arrived in Ireland this week and are joining a demonstration in Cork, according to local media reports.
Ireland's utility regulator estimates that the average annual water and sewer bill for a two-person household will be €278 ($343). That's close to the $353 average in the U.S., although American rates vary widely, with such cities as Honolulu and Seattle charging about twice the national average. In Europe, the bill for a two-person household ranges from about $190 in Italy to more than $860 in Denmark. (Those figures are based on Global Water Intelligence estimates of the charge for 100 cubic meters of water, which is roughly the average annual consumption for a two-person household in Britain.)
For many Irish, being charged for the Emerald Isle's plentiful water is "the straw that broke the camel's back," as one protester told the Irish Times on Wednesday. Succceeding governments have imposed €30 billion in spending cuts and tax increases since 2008, including painful sacrifices demanded by international lenders who bailed the country out in 2010. The water billing plan is one of the last such demands to be put in place.
In poll last week by Ipsos MRBI for the Irish Times, one-third of  respondents said they'd refuse to pay when the first bills arrive in January. According to the government, almost 950,000 of an estimated 1.6 million eligible homes have already signed up to be charged. A previous Irish government abolished water billing in 1996; since then, water and sewer service has been financed by general tax revenues.
Before it's here, it's on the Bloomberg Terminal.
LEARN MORE