Americans Are Getting Older, and That's Worrisome
The nation is getting older and more nonwhite. How will policymakers and politicians react to the changes?
By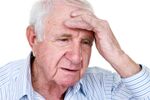 Americans age 65 and older will rise to account for more than 20 percent of the population by 2030, according to Census Bureau projections released Wednesday. About 74.1 million of the 359.4 million people (20.6 percent) the Census projects for 2030 will be 65 and older, compared with 47.8 million out of 321.4 million in 2015 (14.9 percent).