The Three-Pronged, Four-Hour Grilling of Jonathan Gruber
The "Obamacare architect" takes a dive down the Hill.
By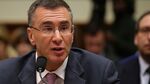 Before a citizen journalist named Rich Weinstein started looking into the public life of Jonathan Gruber, the MIT professor was best known to health care wonks. He knew his stuff. He was quotable. These were not widely shared characteristics during the epic debate over the Affordable Care Act.