The 10 Most Important Excerpts From the CIA Torture Report
The most widely shared passages from the Senate's CIA torture report.
By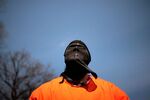 While some have worried that the Senate's CIA torture report would lead to trouble abroad, it's already causing outrage at home.
It's not just the graphic descriptions of torture that are being passed around, but the misinformation and lack of accountability within the CIA that is being discussed. The top social media results on torture focus on instances of the CIA spreading false information to try to sway public opinion and government decisions, and failing to discipline officers for, among other things, causing the deaths of detainees. The CIA did not vet those who oversaw the torturing, and allowed individuals who'd reportedly admitted to sexual assault to conduct interrogations.
Here are eight of the most shared passages from the report. 
1. CIA lied about effectiveness of torture to keep budget, power
As the CIA prepared to discuss the effectiveness of its torture program, Philip Mudd, the Deputy Director of CTC, said they needed to "either get out and sell" or risk losing budget and power. (Via)

2. CIA wanted to give detainees a 'burden too great' to withstand
The CIA believed that Muslim detainees believed they were part of a religious war, and were bound to resist interrogation "until Allah has sent them a burden too great for them to withstand." After that point, the detainees would cooperate. It was the CIA's job to supply that burden, so "Allah gives them the green light," as former Senate Intelligence committee Vice-Chairman Kit Bond put it. (Via)


3. Part of the 'burden,' apparently, involved hummus
The CIA force-fed detainees through their rectums, and called it a "well acknowledged medical technique." One detainee suffered from an anal fissure and "symptomatic rectal prolapse"—when parts of the rectum protrude from the anus and are visible outside the body. (Via)

4. CIA general counsel 'surprised' by President Bush's support for ending torture
In 2003, Bush issued a statement saying the U.S. is "committed to the world-wide elimination of torture" in support of the UN's International Day in Support of Victims of Torture. The CIA's Deputy General Counsel John Rizzo told the National Security Council's legal advisor to express "surprise and concern" at the statement. (Via)

5. Office of Legal Counsel relied on inaccurate CIA information to defend torture
The Department of Justice's OLC "relied on" information from the CIA to draft memos defending the legality of the torture program. The information the CIA provided was inaccurate. (Via) 

6. CIA officials involved in torture weren't vetted
Some of those involved in torture had "workplace anger management issues, and had reportedly admitted to sexual assault," according to the report. "In nearly all cases" the CIA knew about the negative aspects of the officials record before they were assigned. (Via)

7. CIA psychologists had little relevant experience, paid $81 million
The CIA contracted two psychologists to "develop, operate and assess its interrogation operations." The two had no experience as interrogators, no "specialized knowledge about al-Qa'ida, a background in counterterrorism, or any relevant cultural or linguistic expertise." Their company received $81 million in tax payer dollars before their contract ended. (Via)

8. CIA officers weren't punished for wrongful detention, death of detainees
The report found several instances of officers not being held accountable for the death and injury of detainees, the use of unauthorized techniques, or for holding prisoners who didn't meet the legal standard. In the case of a detainee death, no one was held accountable because the officer was "motivated to extract any and all operational information" from the detainee. (Via) 
9. Detainees were hosed down with cold water while naked
The CIA used several interrogation tactics not approved by the Department of Justice. The COBALT detention facility was run by a junior officer "with no relevant experience." One detainee held at the facility died of suspected hypothermia—he was chained to a concrete floor partially nude. (Via)

10. The CIA wrongfully detained at least 26 individuals
The CIA said it had wrongfully detained 5 individuals, but the Senate report found that 26 out of 119 individuals shouldn't have been detained. The report called the estimate "conservative." That includes individuals who were used as leverage against a family member, an "intellectually challenged" man, and one person who was later released, paid off and "told not to speak about his experience." (Via)