Rand Paul's New Idea for Limiting the President's War Powers
The senator's ISIS war declaration has a clever new wrinkle.
By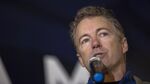 At the end of November, Kentucky Senator Rand Paul released a draft war resolution that would allow Congress to approve the current actions against ISIS, instead of twiddling thumbs as the 2002 Authorization of Military Force was stretched to cover all of that. Some observers, at the time, missed what Paul was going for. He wasn't trying to "declare war." He was trying to limit the scope of a war that was ongoing, by letting Congress intervene.