Rand Paul's New Idea for Limiting the President's War Powers
The senator's ISIS war declaration has a clever new wrinkle.
By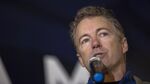 At the end of November, Kentucky Senator Rand Paul released a draft war resolution that would allow Congress to approve the current actions against ISIS, instead of twiddling thumbs as the 2002 Authorization of Military Force was stretched to cover all of that. Some observers, at the time, missed what Paul was going for. He wasn't trying to "declare war." He was trying to limit the scope of a war that was ongoing, by letting Congress intervene.
The sharper observers found another problem. An official declaration of war activated several presidential powers that Paul might not like. In the U.S. Code, for example, a declaration of war means that "the President, through the Attorney General, may authorize electronic surveillance without a court order under this subchapter to acquire foreign intelligence information for a period not to exceed fifteen calendar days following a declaration of war by the Congress."
Here's the advantage of rolling out a bill in the media. It can be vetted. The new language of Paul's bill, shared by his office, includes this new subsection.
(2) NO EXTRAORDINARY AUTHORITY- Nothing in this section shall be construed as granting the executive branch any powers beyond those expressly provided under subsection (b).
That's designed to pre-empt the external powers, which according to the code go into effect "notwithstanding any other law." Paul's version of this resolution is not likely to pass, but he's coming up with a strict redefinition of presidential war powers–doing it, presumably, in advance of his own presidential run.