Michael Hayden: The Nation's Biggest Liar, or Unassailable Patriot?
The Senate torture report was not kind to the former director of the C.I.A.
By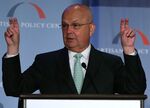 The Senate Committee's Report on the C.I.A.'s Use of Torture has no shortage of blame to go around, but at the top of those at the department who it sees as guilty of lying to the American public is former C.I.A. director Michael Hayden.