Iron Ore Miners Battling Price Slump Halt Exports From India
Rajesh Kumar Singh and Abhishek Shanker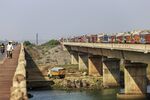 Iron ore exports from India have halted as a global price slump and an increase in royalty fees made shipments unviable for miners battling high taxes levied on overseas sales.
The third-biggest iron-ore exporting nation until three years ago didn't sell "a single gram" overseas in October and November, R.K. Sharma, secretary general at mining lobby group Federation of Indian Mineral Industries, said in an interview, without giving specific data. Miners have sought the scrapping of a 30 percent export tax levied in 2011 to be able to resume sales, he said.
"International prices have fallen to rock-bottom and our costs have remained high," Sharma, whose lobby group tracks data for overseas sales, said by phone. "You lose money on every ton you export."
Even as global benchmark prices fell about 49 percent this year, in August India increased the royalty miners pay to the regional governments to 15 percent of the sales value from 10 percent. While the miners could still bear the tax when prices were in the region of $135 a metric ton until a year ago, the levy became insurmountable as prices tumbled by almost half.
"Our costs are now higher than the prices we will get in the international market," said A.N. Joshi, vice president for iron ore at Sesa Sterlite Ltd., which was India's biggest iron ore exporter until its operations in Karnataka state were shut by a court-ordered ban in 2011 and in Goa the next year. "The export tax has to be abolished altogether."
'No Exports'
The benchmark price of ore with 62 percent iron content at China's Qingdao port was $69.14 a ton today.
Shares of Sesa Sterlite rose 0.8 percent to 222.60 rupees in Mumbai. The stock has risen 10 percent this year, trailing a 31 percent gain in the S&P BSE Sensex.
"There have been no iron ore exports from our port since the end of August," said K.K. Sahu, port traffic manager at Paradip, a harbor on the eastern coast and one of the country's main port for iron ore exports.
Environmental clampdowns by the government and the courts in the past three years led to closing of several mines, extending the crisis. The prolonged bans have prompted customers of Indian iron ore to increase their dependency on Rio Tinto Group, BHP Billiton Ltd. and Vale SA. The shuttered mines in India are struggling to reopen even months after the courts eased the curbs.
Idle Mines
More than three-quarters of India's iron ore mines are lying idle, according to a parliament reply by junior mines minister Vishnu Deo Sai on Dec. 1. Of 776 mines in all, 590 are closed, Sai told lawmakers. All of the 330 mines in Goa are shut, while 112 mines in Odisha out of a total 143 are not operating, he said.
Mine closures have led to record shortages of iron ore and will probably turn India into a net importer of the material in the year to March 31. Indian steelmakers are set to buy as much as 15 million tons from overseas this fiscal year, almost triple the quantity imported a year earlier.
India may need to import as much as 45 million tons in the next three years, should mining curbs be maintained and demand from steel producers continues to rise, Zhuo Zhang and Kenneth Hoffman, analysts at Bloomberg Intelligence, said in a Nov. 20 report.
Miners in the western state of Goa, which was the biggest exporter of low-grade iron ore before the nation's top court banned mining in 2012, are now free to start mining after renewing leases. At current ore prices there may not be any output at least in the year ending March 31, said Swaminathan Sridhar, executive director at Goa Mineral Ore Exporters' Association, an industry trade body.
"Even if iron ore mining were to start from tomorrow, there won't be any exports from Goa as under the current scenario of lower global prices and higher exports taxes from India, shipments are not profitable," Sridhar said in a phone interview from Panaji, the state's capital. "The miners are working toward getting their leases renewed, but for any chance of exports from Goa, the taxes have to come down."
Before it's here, it's on the Bloomberg Terminal.
LEARN MORE