Boeing Slows 747 Jumbo Assembly as Big-Plane Market Dwindles
Julie Johnsson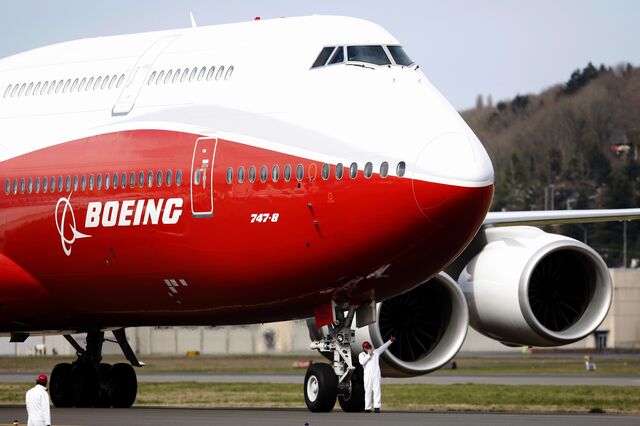 Boeing Co. is paring production of its 747-8 jumbo jet as stalled sales and sluggish demand for freighters have left it with two "white tails," models that were built and remain unsold.
Boeing hasn't netted any new 747 orders this year, leaving a planned update of the U.S. presidential fleet as one of its strongest sales options. The Chicago-based company has a backlog of 39 unfilled jumbo orders, about 30 months of production at the revised tempo, Sam Pearlstein, senior analyst at Wells Fargo Securities, said in a note to clients.
The rate cut is the third announced by Boeing for its iconic hump-nosed jet in less than two years as a rebound in the air cargo market that it anticipated has been slow to take hold. Sales of a passenger version have slowed as carriers redesign route networks around more-efficient models such as Boeing's twin-engine 787-9 Dreamliner and 777.
"The 747 was really built to feed long-haul hubs," said George Ferguson, a Bloomberg Intelligence senior analyst for air transportation. "More and more we are bypassing those hubs and going direct" to smaller destinations, he said in an e-mail.
While long-haul hubs such as Dubai, London Heathrow and New York's John F. Kennedy International Airport still attract enough passengers to fill aircraft in the 400- to 500-seat market, "there aren't enough of them to justify full-scale production of very large aircraft," Ferguson said.
Boeing plans to slow its factory tempo for the 747-8 in September to 1.3 jets a month from 1.5, Doug Alder, a company spokesman, said today. That would mean building 16 of its biggest-ever planes annually, a reduction of two from the current pace.
'Minor Adjustment'
"We're making this minor adjustment because the near-term recovery in the cargo market has not been as robust as expected," Alder said in an e-mail. "We continue to believe in the long-term strength of the freighter market, and the 747-8 is uniquely positioned to capture this demand."
Boeing fell 0.5 percent to $129.66 at the close in New York. The shares have declined 5 percent this year as the Standard & Poor's 500 Index gained 11 percent.
The 747-8 is the latest variant of the aircraft family that revolutionized travel more than 40 years ago with its size and range. A freighter version sells for $368.4 million, while a passenger model has a $367.8 million list price.
'White Tails'
In a sign of the jet's struggles, Boeing has stored two brand-new 747s that rolled off its assembly line during the past two months. The aircraft, devoid of any airline markings, are known in aviation parlance as "white tails."
"We are in active campaigns to place these airplanes, which were built while under contract but canceled by a customer for a variety of reasons," Alder said.
The jumbo competes with Airbus Group NV's double-decker A380, another plane that has struggled to find buyers. Larger twin-engine models with upgraded engines can now fly routes once within reach only for jumbos, shrinking the need for the biggest aircraft.
In 2013, Boeing twice reduced the monthly output of the 747-8, whose freighter variant entered commercial service in 2011. The latest cut is "not expected to have a material financial impact," Chaz Bickers, a Boeing spokesman, said in an e-mail.
The Wall Street Journal reported earlier today on the production cut via a Twitter message.
Before it's here, it's on the Bloomberg Terminal.
LEARN MORE