Berkshire's Decker Sees CEO Pay Becoming Issue for Board
Noah Buhayar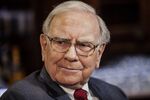 Berkshire Hathaway Inc.'s board will have a bigger responsibility weighing compensation for its next chief executive officer after Warren Buffett is no longer leading the company, said director Susan Decker.
Buffett, 84, and Berkshire Vice Chairman Charles Munger, 90, have requested their annual salaries be set at $100,000 for decades. Both are among the biggest shareholders in the Omaha, Nebraska-based company.
"The compensation questions for the board are really not too important today," Decker said yesterday at an event at Stanford University in California. "They could be important in the future, because it's unlikely the next CEO at Berkshire is going to have the same arrangement that Warren and Charlie do."
Buffett took control of Berkshire in 1965 and, with Munger, reshaped the textile maker through stock picks and acquisitions. It's now the fourth-biggest company in the world by market value. Subsidiaries range from auto insurer Geico and railroad BNSF to electric utilities and chocolate maker See's Candies.
Buffett, the world's second-richest person, has said that the board is in agreement on a candidate to take over as CEO immediately, if needed. He's also said the company has backups, without naming any executives. Decker, who's been a Berkshire director since 2007, reiterated those points yesterday.
"He and we feel very confident based on how he's run the company that there are several candidates that could run the company if he were hit by a bus tomorrow," she said of the board. "We have a plan for that."
Policy Changes
The billionaire has spoken publicly about compensation policies that could help Berkshire once he's gone. He said in 2013 that the next chief will be entitled to a much bigger paycheck. Earlier this year, he told Fortune magazine that it may make sense to issue stock options to his successor, a practice he's criticized elsewhere as costly for shareholders.
Buffett has taken steps to divide his responsibilities. He hired investment managers Todd Combs and Ted Weschler to help oversee a stock portfolio valued at more than $100 billion. He's also said that his son Howard, a Berkshire director, could be non-executive chairman.
"Warren has really started to build a strong succession pathway," said Decker, 52.
Lawrence Cunningham, an author and law professor at George Washington University, helped organize the talk with Stanford's Rock Center for Corporate Governance. His latest book, "Berkshire Beyond Buffett: The Enduring Value of Values," discusses some of the traits that could help the company thrive for decades to come.
Before it's here, it's on the Bloomberg Terminal.
LEARN MORE