Kuwait Sees Oil Stuck at $65 for Six Months Until OPEC Moves
Wael Mahdi and Anthony DiPaola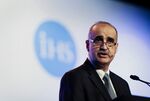 Oil prices will stay at about $65 a barrel for at least half a year until OPEC changes its collective production or world economic growth revives, said the head of Kuwait Petroleum Corp.
Oil is trading in a bear market as the U.S. pumps at the fastest rate in more than three decades and demand growth slows. OPEC decided on Nov. 27 to maintain its output target, prompting a drop in European benchmark Brent crude to less than $70 a barrel for the first time since May 2010.
"Oil prices will stay around the current level of $65 for six or seven months until OPEC changes its production policy, or recovery in world economic growth becomes more clear, or a geopolitical tension arises," Nizar Al-Adsani, chief executive officer of the state-run company, said yesterday at a conference in Kuwait City.
Crude prices have declined about 40 percent from a June peak amid overproduction and sluggish growth in consumption. Saudi Arabia led OPEC's decision to maintain rather than cut output last month in Vienna, citing the threat U.S. shale presents to the group's market share, Iranian Oil Minister Bijan Namdar Zanganeh said on Nov. 28. Brent was 61 cents, or 0.9 percent, higher at $66.80 a barrel at 1:15 p.m. in London.
Iraqi Discounts
A breakdown in OPEC solidarity or a price war among producers for market share will lead to an "enormous price-dive shock," Mohammad Sadegh Memarian, the head of petroleum market analysis at Iran's Oil Ministry, said today at a conference in Dubai. Amrita Sen, chief oil market analyst of Energy Aspects Ltd., a London-based consultant, said at the same industry event that supply and demand don't warrant a price as low as $60.
OPEC member Iraq deepened the discount for its Basrah Light crude next month to customers in Asia to the greatest in at least 11 years, following Saudi Arabia's lead as Middle Eastern producers seek to defend market share. Iraq set the discount at $4 a barrel below the average of Middle East benchmark Oman and Dubai grades, according to a statement yesterday from the country's Oil Marketing Co.
State-owned Saudi Arabian Oil Co. reduced its January price for Arab Light sales to Asia to $2 a barrel below the Oman-Dubai average, the Dhahran-based company said in an e-mailed statement on Dec. 4. That's the widest discount since June 2000, when Bloomberg began compiling data.
Seasonal Maintenance
"It's premature for anyone to determine the direction of oil prices at the moment," Kamil al-Harami, an independent oil analyst based in Kuwait, said by telephone yesterday. "The second quarter will be crucial as this is when refineries go offline for seasonal maintenance, putting more downward pressure on prices."
The Organization of Petroleum Exporting Countries pumped 30.56 million barrels a day in November, exceeding its target of 30 million for a sixth consecutive month, according to estimates compiled by Bloomberg. U.S. oil production accelerated to 9.08 million barrels a day through Nov. 28, according to data from the Energy Information Administration. That's the fastest rate in weekly records that started in January 1983.
Kuwait is producing 2.9 million barrels of crude a day, Al-Adsani said. Together with neighboring Saudi Arabia, Kuwait is pumping 200,000 barrels a day from the Chevron Corp.-operated Wafra field straddling their border, he said.
It's still unclear when production will resume at the Khafji oil field in Kuwait's shared neutral zone with Saudi Arabia, Al-Adsani said. Khafji was producing 300,000 barrels a day before Saudi Arabia closed it in late October, citing environmental and technical reasons.
Before it's here, it's on the Bloomberg Terminal.
LEARN MORE