At Israel's MIT, Arab Women (and Men) Are Suddenly Thriving
By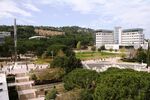 Here's a little-told success story: Israeli Arabs, women in particular, have made huge strides over the past decade at the Technion-Israel Institute of Technology, better known as Israel's answer to MIT. Among both men and women, Arabs' share of the Technion student body is now equal to their share of the overall population, an impressive achievement considering that more than half of Israeli Arab children live below the nation's official poverty line.
I spoke today with Yosef Jabareen, an Arab professor of urban planning who spearheads the Technion's effort to recruit and graduate Arab students. He shared a recently updated report he's done and explained what he called "a dramatic change" in outcomes for Arab students. "For me, as an Arab professor, it's fantastic," said Jabareen. He earned bachelor's and master's degrees at the Technion, completed his education in the U.S. with a master's from Harvard and a Ph.D. from Massachusetts Institute of Technology (America's answer to the Technion), then returned to his alma mater and five years ago was named assistant to the senior vice president for minorities.

In 2001, as this slide shows, Arabs accounted for only 11 percent of undergraduates at the Technion. The percentage rose steadily to 18 percent last year and jumped three percentage points more to 21 percent this year, which is the same as Arabs' share of the population of Israel (not counting the West Bank or Gaza, of course). Jabareen says that in 1990 Arabs' share of the student body was only 5 percent to 7 percent. So it's at least tripled in a quarter-century.
Nearly as dramatic has been the surge in Arab female students, from 39 percent in 2003 to 48 percent in 2014.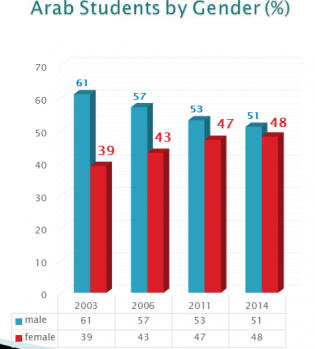 Those figures compare favorably with those of majority-Arab nations, Jabareen says. Arabs, male and female, aren't just being admitted. They're graduating. The dropout rate, which was 73 percent in the 1970s, has fallen to 20 percent, vs. a dropout rate of 12 percent for Jews at the Technion, Jabareen says.
My colleague Drake Bennett highlighted the success of Arab startups in Israel in a recent feature story. There's a long way to go, though. Only about 1 percent of people working in high tech in Israel are Arabs, Jabareen says, adding, "This is very dangerous politically for the state and for the minority." The outpouring of fresh Arab Technion grads should begin to change those numbers.
The Technion, based in the northern Israel city of Haifa, specializes in science, engineering, and medicine. It was founded in 1912, before the establishment of the state of Israel. It's working with Cornell University to establish a graduate school for science and engineering and a tech incubator on New York City's Roosevelt Island. The New York Times described the Technion in a headline as "Israel's Hard Drive."
How did Arabs manage to gain such a solid foothold at the Technion? One factor, says Jabareen, is a network of excellent private schools for Arabs. Many are run by Arab Christians but are open to Muslims as well. The Israeli government has provided funding to those schools based on attendance, similar to voucher systems in the U.S. Education is seen as a pathway out of poverty by many Arab Christians, says Jabareen.
Jewish philanthropists including Benny and Patsy Landa helped kick the Technion's efforts into a higher gear about a decade ago, Jabareen says. Benny Landa, a Canadian-Israeli, is a digital-printing pioneer who with his wife founded the Landa Fund for Equal Opportunity Through Education. Other philanthropists have since made donations. The Higher Education Council of Israel added support as well, mostly over the past five years.
Jabareen says Arab students are given intensive lessons in Hebrew, English, math, and physics in a summer camp before they enroll in the Technion. As students, each has two advisers, one for academics and one for social and cultural matters. The advisers are top Arab students who are paid for their work. In February the Technion will launch a project encouraging female Arab students to start their own companies, inviting in grads who have already done so, Jabareen says. "I believe that this type of project will improve the condition and the status of the Arab women within the Arab society, when they become investors and developers and high-tech leaders. This is very important."
Last summer was stressful for the Technion's Arab student body because of fighting between Israel and the forces of Hamas in Gaza. One third-year Arab medical student got in trouble for a joke he posted on Facebook after three Jewish teens were kidnapped in the West Bank—an incident that helped spark the wider conflict. Jabareen said he canceled his plans for academic travel to Europe and the U.S. so he could stay close to campus and support the Arab students. "The Arab students behaved in the best, excellent way. During all the war they have been calm, calm completely."