Here's Why China's Stock Rally Will End in Tears
By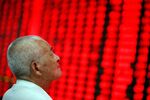 China's stocks are on a tear. This week saw the biggest jump for the market's benchmark in almost six years—up 9.5 percent—and set a new milestone, with turnover breaking through the 1 trillion yuan ($163 billion) mark for the first time.
The Shanghai Composite Index is up some 40 percent since the middle of the year and 21 percent in just the past month—more than any of the 93 other indexes around the world tracked by Bloomberg. Meanwhile, investors are rushing to open trading accounts at a rate not seen for the past few years.
What's behind the action? An interest rate cut last month by China's central bank—the first in two years—"provided a fillip to sentiment," writes Chen Long of Beijing-based researcher Gavekal Dragonomics in a note published today. Now investors are betting on further credit-loosening policies by Beijing, including cutting bank reserve requirements. The bulls' call: The good old days of fast, government-supported growth are finally back.
It's also clear what's not driving the rally: economic fundamentals. The stock surge comes even as Chinese growth slid to 7.3 percent in the third quarter, and almost every economic indicator suggests a prolonged slowdown is settling in. Meanwhile, company earnings growth is declining.
China's "A-Shares are tearing higher even as China's economic growth rate has slipped to its lowest level since the depths of the 2009 crisis," writes Chen. "Nine months ago everyone was worried about shadow banking defaults and rising bad loans. The risks have not vanished."
"China's stock rally in the last two weeks can't be explained by any economic fundamentals," said Ken Peng, a strategist at Citigroup's private bank in Hong Kong in an interview with Bloomberg News. "If the central bank shifted course in easing, China's stock market rally would fizzle away very quickly," he cautioned.
"For now this momentum looks unstoppable," writes Gavekal's Chen. But "when the tide recedes, the backwash is likely to be vicious."
Before it's here, it's on the Bloomberg Terminal.
LEARN MORE