Starbucks: Howard Schultz on the Coffee Chain's Expansion Under His Leadership
Haley Geffen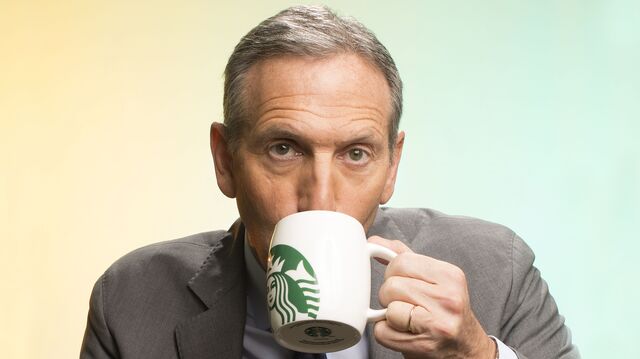 1971 Starbucks Coffee opens in Seattle's Pike Place Market on March 30.
Since Chief Executive Officer Howard Schultz bought Starbucks with a group of investors in 1987, the company has expanded from six stores to more than 21,000 in 65 countries.
 
 
What is your passion?
My family and Starbucks, in that order.
As a young person, was there any indication that you'd change the world?
Growing up in Brooklyn, we spent most of our day in the schoolyard. I learned at a very early age that winning was important. My reputation was not as the best athlete out there, but I was always diving for balls on concrete. The heart I had and the will to win was a defining factor in how I played the game.
You didn't start Starbucks, but you got involved very early on.
I came to Seattle on business, and I walked into the Pike Place store and just felt like, God, this is me. I convinced the founder of Starbucks to hire me, and in 1982 my wife and I and our golden retriever drove 3,000 miles from New York. Starbucks had three stores at the time. That's how it all started. I bought the company in 1987 for $3.8 million.
What was the first cup of Starbucks coffee you ever had?
It was in the Pike Place store in 1979. A French press of Sumatra. It changed my life. I still have a French press three or four times a day.
What was the moment you realized that Starbucks was, you know, Starbucks?
We opened our first store outside of North America, in Japan, in 1996. I really thought we might fail there. On the morning of the opening, people were lined up outside. A guy had slept there overnight; he didn't speak any English. We rushed him to the front of the line, and he said to the barista, in English, "Double tall latte." I knew then we were going to be a huge success.
What was the turning point?
In 1983, a year after I joined the company, I went to Italy for the first time. You can't walk through a town in Italy without running into a coffee bar and seeing the sense of community and the romance and theater around espresso. We were selling coffee beans, and it made me realize that the real business opportunity was creating a destination and a sense of community in the store.
I felt in my bones that what I experienced in Italy was something that was transferable to the U.S. I didn't at that point think that Starbucks would one day become part of the culture, the zeitgeist. But very early on, as we started opening up stores, there was something quite dynamic taking place.
What was life like before Starbucks?
In the '70s, people were drinking instant coffee, Maxwell House, Yuban, and perking it at home. It wasn't very good. That's what Americans knew, and we had to introduce them to a whole new beverage. When Starbucks first started opening stores, many were convinced our coffee was too strong. We had to educate the market and the customer about this: "No, this is the way coffee should taste."
Before it's here, it's on the Bloomberg Terminal.
LEARN MORE