Singapore Air Resolving Business Class Economy Fare Snag
Kyunghee Park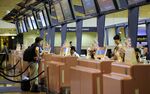 Singapore Airlines Ltd. was working with travel agents in Australia to recover the difference in fares on business-class tickets that were mistakenly sold at economy-seat prices.
Some travel agents sold the tickets using a "booking class" that was originally designated for economy seats, Singapore Air said in an e-mailed statement yesterday. The airline said today the tickets sold involved 900 segments, or journeys between two cities. Singapore Air said it doesn't immediately know how many people purchased those tickets. The fare conditions state that it's only valid for coach class travel, according to the airline.
"We are working with our travel agent partners to ensure that our customers are notified of this issue, to ensure there is no disruption to their travel plans," Singapore Air said.
The carrier has advised travel agents of options for those affected customers, including paying the difference to its lowest business class fare, flying on economy class or getting a full refund, Singapore Air said.
The affected tickets between Singapore and European destinations were sold by online agents in Australia from Nov. 29 to Dec. 1, according to an News Corp. report yesterday.
Singapore Air rose 0.3 percent to S$10.98 as of 12:35 p.m. in the city.
(An earlier version of this story was corrected to say tickets sold involved 900 segments)
Before it's here, it's on the Bloomberg Terminal.
LEARN MORE