Ramsay's Heddon Street Kitchen Is Unobjectionable, Really: Review
By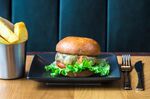 Gordon Ramsay has done more to improve London dining than almost any chef of the past 20 years.
He mentored a generation of culinary stars, including Jason Atherton, Angela Hartnett, and Marcus Wareing, who went on to open fine restaurants. At the flagship Restaurant Gordon Ramsay, Clare Smyth is cooking some of the best food in London.
They have learned from him and now follow their own path. It's just Ramsay himself whose direction is unclear.
Heddon Street Kitchen, which opened in Mayfair last month, is Ramsay's 13th U.K. restaurant. His group employs more than 700 people in London and owns a total of 24 establishments globally.
It's a machine, with all the heart and soul that suggests.
Heddon Street isn't bad at all. The menu is as accessible as you'll find in a hotel coffee shop. There is something for everyone, from raw fish to mutton-and-potato pie; rigatoni to roasted cod; potted salt-beef brisket to spiced halibut. It's culinary Esperanto: Hello -- or should I say Saluton?
The chef is Maria Tampakis, who previously worked at Ramsay's Bread Street Kitchen. Ramsay has a particularly strong record of supporting women chefs.
'Drink Yourself Happy'
This kind of casual establishment is as much about the buzz as the food, and I am sure this will develop as Heddon Street is in a busy bar area, including a joint selling luminous happy-hour cocktails with the admonition, "Drink Yourself Happy."
It's worth a try.
Among the hot starters, the fried rock oysters are the winners -- hot and crunchy and gooey -- though they come with a fennel and lemon confit that is best discarded. The warm Bang Bang chicken salad has plenty of flavor; the spicy tuna tartare doesn't have much to say for itself, yet it costs 11.50 pounds ($18) if you want to have a listen.

Among the mains, the burger -- HSK short-rib beef burger, hickory smoked bacon ketchup, Monterey Jack cheese -- is unremarkable at 12 pounds. The 12 ounce rib-eye steak doesn't have much flavor and is expensive at 34 pounds. A brunch menu lobster roll was fine at 9.50 pounds; a side of macaroni cheese with garlic-roasted crumbs is a textural treat. That mutton-and potato number is a shepherd's pie, and jolly decent, too.

Uneven Service
The service is uneven. On my first visit, the waitress walked us through a half-empty dining room and tried to insist we sit upstairs in Siberia, a cold and sparsely populated space.
She pointed to a banquette on wheels -- handy for getting about but not somewhere you would want to sit unless the casters are locked. All those empty ground-floor tables had been reserved. Really?
On another visit, a different waitress (Mariya) was so charming and enthusiastic, I started to enjoy myself.
That effort was rewarded by the presence of some good wines on the list: Saumur Blanc l'Insolite, Thierry Germain 2013 is worth the 50 pounds it costs; Petite Sirah, Bogle Winery, California 2011 is spicy and smooth.
Destination Past
Heddon Street is not bad. If it had opened 10 to 15 years ago, it might have been interesting. I remember the excitement of Ramsay's first casual venue, Boxwood Café, at the Berkeley hotel in 2003.
It's just that the London restaurant scene has moved on, led by Ramsay's former proteges.
Marcus Wareing's Gilbert Scott, Jason Atherton's Berners Tavern, Angela Hartnett's Cafe Murano are all good in different ways. You might drop into Heddon Street and enjoy yourself, but it's hardly a destination.

Even the design by the hugely talented Russell Sage looks generic, the restaurant equivalent of the music you might get from a pop star trapped in a multi-album deal he regretted.
In an appearance on "The Jonathan Ross Show," Ramsay said a rival has sabotaged the opening, booking 100 guests who never showed up. Maybe it was the same people who had reserved tables downstairs while I was wheeling around upstairs on a banquette.
Heddon Street Kitchen is at 3-9 Heddon Street, Mayfair, London, W1B 4BN; +44-20-7592-1212 or gordonramsay.com
(Richard Vines is the chief food critic for Bloomberg. Follow him on Twitter @richardvines)
Before it's here, it's on the Bloomberg Terminal.
LEARN MORE