Merkel Officials Said to Snub Sarkozy Speech to CDU Party
Arne Delfs and Helene Fouquet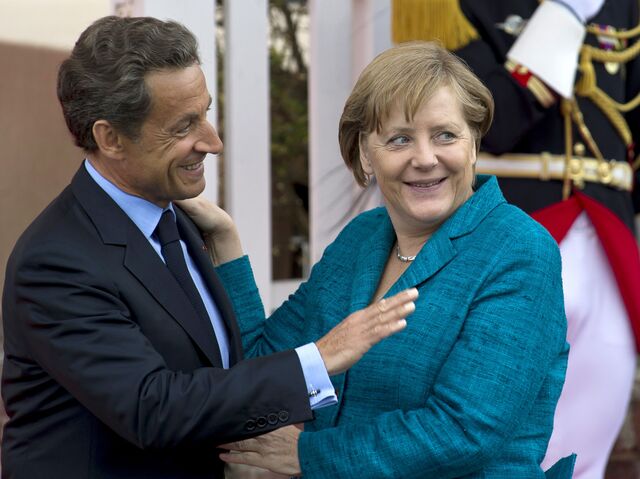 German Chancellor Angela Merkel's party has blocked Nicolas Sarkozy from addressing its annual convention, two people with direct knowledge said, extending the chill between the former allies.
The former French president, who's seeking a comeback after voters ousted him in 2012, won't be allowed to give a speech at the Christian Democratic Union's two-day conference starting Dec. 9 in Cologne, the party and government officials said. While Sarkozy's UMP party is invited to send representatives, it was made clear that he couldn't take the podium, said the officials, who asked not to be named because the talks are private. CDU spokesman Jochen Blind said the party won't comment publicly on the matter.
Merkel and Sarkozy teamed up to defend the euro as Europe's debt crisis unfolded in 2010, coordinating policy to the point they became known as "Merkozy." While Merkel publicly backed his re-election bid in 2012, she's now wary of Sarkozy's ambitions because she views some of his policies as propelling the surge of France's anti-immigration, anti-euro National Front, German government officials have said.
Sarkozy won't attend the convention, though he plans to meet Merkel early next year, a spokeswoman for the former president said by phone yesterday. She cited a scheduling conflict requiring him to be in Paris for meetings with French senators.
Taking the stage at an event headlined by Merkel, Germany's most popular politician, would have given Sarkozy, 59, a platform to advance his comeback after he lost the presidency to Socialist Francois Hollande. German Finance Minister Wolfgang Schaeuble, a CDU member, said on Nov. 2 he looked forward to welcoming Sarkozy at the party's meeting.
Merkel's Call
Merkel called Sarkozy to congratulate him on his election as UMP chairman, the party said in a statement yesterday. "She wished him luck, lots of strength, and success," according to the UMP statement. The two leaders "agreed to cooperate as closely as possible and will meet very soon."
Sarkozy's Union for a Popular Movement chose him as party head on Nov. 29, though that doesn't guarantee he will be the UMP candidate in the 2017 presidential election.
Polls consistently show voters prefer Bordeaux Mayor Alain Juppe, who was Sarkozy's foreign minister and has said he'll run. Merkel's chancellery favors Juppe, 69, since he is a more centrist choice than Sarkozy, a German government official said in October.
Merkel, who won a third term in 2013, heads to the national convention with her party's support in voter polls undiminished since the last election. The 60-year-old chancellor, who also heads her party, plans to give the keynote speech on the conference's first day.
Before it's here, it's on the Bloomberg Terminal.
LEARN MORE