Has Oculus Finally Conquered the Virtual-Reality Vomit Problem?
Improved sensors and software make the latest Oculus VR headset tolerable for users sensitive to motion sickness—a group that includes Oculus Chief Executive Officer Brendan Iribe
By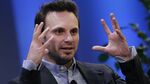 Virtual reality makes me sick. It starts with a feeling of dehydration soon after the goggles go on, followed by sweating—and by that point it's too late to avoid the real unpleasantness.