In 14 Years, Same-Sex Marriage Has Spread Around the World
By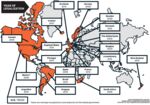 2000 Queen Beatrix of the Netherlands signs the world's first same-sex marriage bill into law.
The modern gay-rights movement traces its origins to the Stonewall riots in New York in 1969. It took three more decades for countries to begin allowing same-sex partners to wed. Today, gay marriage is recognized around much of the world. In the U.S., 66 percent of Fortune 500 companies provide health insurance for domestic partners.
Before it's here, it's on the Bloomberg Terminal.
LEARN MORE