Democrats Name Google's Eric Schmidt to Election Post-Mortem Group
The party is trying to figure out why it was so badly beaten in the midterm elections.
By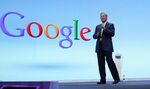 Democrats in Washington, it seems, have been Googling the words "epic fail."
The Democratic National Committee is convening a group that includes Google Chairman Eric Schmidt with a goal of figuring out what went wrong in the midterm elections and how to fix it fast.
A DNC statement released Thursday listed the other members of the optimistically named "victory task force." They include political activist and Wendy Davis co-chair Naomi Aberly, Kentucky Governor Steve Beshear, political strategist Donna Brazile, Latina activist Maria Cardona, lawyer Marc Elias, former Obama campaign digital director Teddy Goff, marketing guru Maneesh Goyal, Colorado Democratic Party Chairman Rick Palacio, and union leader Lee Saunders. Via the statement:
The Democratic Victory Task Force will conduct a thorough review and assessment of key components of the Democratic Party's—and related organizations—role in recent elections and identify places where the Party can strengthen and improve operations to better serve candidates and constituents in future elections. It will cast a wide net that will examine a range of issues that ultimately will produce recommendations on steps both the national and state parties must take to improve their performance including, but not limited to, future midterm elections.
The group was first announced by DNC Chairwoman Debbie Wasserman Schultz days after Democrats lost control of the Senate and saw their numbers decline further in the House. 
During the midterm election cycle, Schmidt donated $60,000 to Democratic congressional candidates and chipped in $250,000 to Senate Majority PAC, Politico reported.