Canada Gas Project Delay Highlights Oil Plunge's Wider Risk
James Paton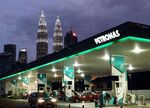 Petroliam Nasional Bhd.'s decision to postpone its C$36 billion ($32 billion) liquefied natural gas project in Canada highlights the risks for energy developments around the world from oil's plunge.
Woodside Petroleum Ltd.'s Browse gas project in Australia and an oil project planned by Santos Ltd. in Indonesia are among others seen as facing delays with oil trading at the lowest in more than four years.
"Unless there is compelling reason to move ahead with approvals, we do expect significant deferrals of capex across the board," Nik Burns, an analyst at UBS AG, said by phone from Melbourne. "Most investors are looking for greater financial discipline with commodity prices falling."
Oil's slump threatens to hurt LNG contracts tied to crude prices for suppliers already coping with rising costs and competition from Russian gas commitments to China. Costs at the Canadian project need to be cut before a decision is made, the Malaysian state-owned company known as Petronas said yesterday.
Petronas announced the delay less than a week after Chief Executive Officer Shamsul Azhar Abbas told reporters there were a few "loose ends" to sort out before a final investment decision would be made. Oil fell almost 8 percent in the days between Shamsul's comments in Kuala Lumpur and yesterday's announcement.
With BG Group saying in November that it would slow its proposed $16 billion LNG project in Prince Rupert, British Columbia, on concern about competing sources of supply from proposed projects in the U.S., the prospects for the 18 LNG developments on the drawing board in Canada are dimming.
End of Cycle
"We are at the end of a multi-year cycle and at the early stages of a completely different cycle in the LNG and gas markets, so yes the odds are that current dynamics will end Canada's LNG ambitions," said Simon Jacques, a Saint John, New Brunswick-based consultant, who advises energy traders on shipping economics.
Benchmark crude prices have fallen more than 35 percent from their June peaks, and the Organization of Petroleum Exporting Countries' decision last week to keep up the pace of output amid a global glut worsened the outlook for a rebound.
Woodside's Browse LNG venture with partners including Royal Dutch Shell Plc, PetroChina Co. and BP Plc, faces a "material risk" of delay, said Mark Samter, a Sydney-based analyst at Credit Suisse Group AG.
Project Risk
The companies may scrap a plan to process the gas offshore on a floating LNG platform and send the supplies instead by pipeline to an existing onshore plant, he said by phone.
"It would be highly unlikely not to see a delay, and there's a real risk the project doesn't go ahead in planned form," according to Samter, who saw Browse as questionable even at higher oil prices.
Woodside expects a decision on whether to proceed with Browse in the second half of 2015, its website shows. Perth-based spokeswoman Michelle Grady said there's no update to the company's prior forecast.
"People are thinking twice about projects, but I don't think we're going to see any cancellations," Tony Regan, a consultant at Tri-Zen International Inc. in Singapore, said by phone. "Maybe a bit of a slowdown because there's a feeling this is short term" and that oil prices will recover, he said.
The Scarborough and Sunrise LNG projects have also been proposed in Australia. In Canada, Petronas and other producers including Shell and Chevron Corp. are considering exporting gas in liquid form to meet rising demand in Asia.
Santos may delay a decision on the Ande Ande Lumut project in Indonesia beyond a current forecast of late 2015 or early 2016 amid concerns about the company's balance sheet, according to Burns of UBS. Santos declined to comment today on the Indonesian venture with partner AWE Ltd.
The Adelaide-based company said today it expects to cut spending significantly next year after oil prices plummeted.
Before it's here, it's on the Bloomberg Terminal.
LEARN MORE