Bitcoin Refuses to Die as Currency Draws Draper: Opening Line
Laurence Arnold and C. Thompson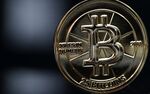 When last we ventured into the Wild West of finance to check on bitcoin, we learned how difficult it is to find places to spend money you can't see or touch.
Nothing, it seemed, had emerged to rival the underground marketplace known as Silk Road, shut down by U.S. law enforcement in 2013 for dealing in drugs, phony passports and services that might make Craigslist blush.
But -- no matter. Scandals that might ordinarily doom a startup something-or-other roll off the back of bitcoin, which looks determined to stick around for a while.
That's certainly the belief of Mineyuki Fukuda, the "second-term lawmaker on an obscure subcommittee" who has "single-handedly made Japan an oasis for bitcoin entrepreneurs," Pavel Alpeyev and Jason Clenfield report today.
To get around Japan's banking laws, Fukuda defined bitcoin not as a currency or a commodity but as a "digital recorded value," a feat of verbal dexterity that serves to highlight bitcoin's still-uncertain footing.
After rocketing to $1,137 a share last November, then see-sawing for a while, bitcoin has reached a relative stasis at around $380. That means the 50,000 bitcoins being auctioned today by the U.S. Marshals Service are worth about $19 million.
Those bitcoins were seized -- in the virtual sense of the word -- from files on computers belonging to Ross Ulbricht, whom the U.S. has charged as the creator and first operator of Silk Road. (Ulbricht says they have the wrong man.) In June, the marshals service auctioned an initial batch of 30,000 Ulbricht bitcoins, all of which were won by Tim Draper, co-founder of investment firm Draper Fisher Jurvetson.
It might seem a stretch to many of us, but Draper sees big things ahead for bitcoin -- as an alternative to troubled currencies in emerging nations, as an efficient vehicle for cash transfers in the U.S. -- even, in the future, as "the main currency of the world," he told Bloomberg Television's Emily Chang in July.
"This is as transformative to finance as the Internet was to information and communication," he said.
Draper's word carries some weight. His father, William Draper III, co-founded the West Coast's first venture-capital firm, Draper Richards.
Tim Draper wants everybody to "go buy a bitcoin and see how it works."
Just don't try that at today's auction. The smallest block is 2,000 bitcoins. And Draper has made clear he's in it to win it again.
***
U.S. economic indicators today include initial jobless claims at 8:30 a.m. EST and Bloomberg consumer comfort at 9:45 a.m.
Today's U.S. earnings reports include Kroger, Sears, Barnes & Noble, and Dollar General before the bell. After the market closes, we'll hear from American Eagle, Ulta, and Five Below.
Myriad Genetics holds its annual meeting.
The BOE's Monetary Policy Committee announces its rate decision at 12 p.m. in London, 7 a.m. EST, followed by the ECB's rate decision at 1:45 p.m. in Frankfurt, 7:45 a.m. EST.
***
- Crimea is to Russia what Jerusalem's Temple Mount is to Muslims and Jews, Putin says. - Benoit Coeure, ECB executive board member, speaks at a conference in Brussels at 9:15 a.m. EST. - Chris Christie leads a New Jersey state delegation to Canada to discuss energy. - Hillary Clinton speaks at the Massachusetts Conference for Women at 1 p.m. EST. - Jeffrey Immelt, GE chief executive officer, speaks at Osons La France, a summit on France's economic future. Conference continues through tomorrow. - All signs point to North Korea. - UVA President Teresa Sullivan calls for the end of trash-can punch. - Sexual assault in the military being reported more frequently in report to be released today, which evidently is a good thing. - Venezuelan opposition leader indicted on charges of plotting to kill Maduro. - Court won't block same-sex marriages pending Florida's appeal. - Or allow drug testing of Florida welfare recipients. - American woman teaching in Abu Dhabi knifed to death in mall bathroom. - Alan Gross's family says he's close to death in Cuban prison. - Video of Costa Concordia skipper presented as evidence he abandoned ship. - House cuts Medicare funding of penis pumps. - Trying to quit smoking? Didn't think so. - The one and only Kim Jong-un. - Starbucks rolls out its order-ahead app in Portland, Oregon, today. - NBC takes another shot at live theater tonight at 8 p.m. EST. - There are 100 sextillion stars in the universe, but there should be more. - What's the guy in the upper left doing around the 0:52 mark? - Final score: 76ers 85, Timberwolves 77 - New York police officer cleared by grand jury in alleged chokehold death of Staten Island man who was menacing the streets of New York by selling single cigarettes. - Police homicides vastly undercounted in federal statistics. - College pumpkin riot results in "discipline" of 170 students, none shot to death or choked to death by police.
***
It's tempting, in that obnoxious American-exceptionalism sort of way, to view central-bank developments around the globe as confirmation that we were first and we were right.
Super-low interest rates, quantitative easing -- been there, done that. The question is not so much whether the Federal Reserve's post-2008 recovery plan will be implemented in other countries, but what's taking them so long.
In the case of the European Central Bank and its president, Mario Draghi, Jeff Black and Stefan Riecher offer some answers. Having pledged to raise inflation in the euro area "as fast as possible," Draghi "now faces a go-slow from multiple members of the Governing Council," including "German disquiet over bond buying."
Imagine Ben Bernanke, among everything else, having to deal with a multinational coalition weighing his every move.
"Even so," Black and Riecher write, "the euro area's drift closer to deflation means Draghi may need to use his monthly press conference today to reassure investors that officials can respond quickly if needed."
The press conference follows the ECB's interest-rate announcement, which comes at 7:45 a.m. EST.
***
Evidently scaly skin isn't as high on the list as fur is when it comes to whether the creatures that were born in their coverings get to stay in them. There's an efficient market for crocodiles in South Africa now after the success of last month's auction of more than 8,000 of the toothy beasts, and unfortunately for them, not only they do they wear well, they taste like chicken.
Tshepiso Mokhema reports the breeders, so-called subadults of seven to 10 years old, sold for about $1,100 each. These are still pretty small, only about 440 pounds, or 200 kilos. The little nippers went for $75 each. We could afford that, though only on the condition that it gets nowhere near 400 pounds, let alone the roughly 2,000 pounds one is capable of accumulating. With the sale also of fertilized eggs, one could say they have a futures market as well.
Thus a liquid, transparent market in cold-blooded animals has been established after years of private trading. Who would have thought crocodile farmers could achieve what the municipal-bond market can't?
***
Imagine trying to be an accountant right now with what's going on down on Capitol Hill. Actually, don't bother trying. We've got one for you. Bill, take it away:
"The fact that these nitwits are in Washington on Dec. 3 deciding some tax bills that impact on all of 2014 -- I mean, it is ridiculous. It's unbelievable. It's unconscionable."
This is Bill O'Connor, CPA, a partner at Siana Carr O'Connor & Lynam LLP in the Philadelphia suburb of Paoli. He's the kind of guy who has to bend over and take it when Dave Camp and Congress's tax geniuses approach their legislation like "The Sorcerer's Apprentice."
Congress likes to talk a lot about how to help American businesses, but we can't think of a single area of greater importance for a business, let alone any individual, than knowing where the chalk lines are and making them consistent.
O'Connor's been in the business for more than 35 years, a member of the Pennsylvania and American Institutes of Certified Public Accountants, and you've got to figure he's seen a lot in that time. Can't be too often he gets that riled up. But here's a look inside his reality as Congress resurrects dozens of tax breaks for, effectively, one month only.
"We have a three-and-a-half-month window to file both the corporate and individual tax returns -- actually, the corporates are two-and-a-half months," O'Connor says. Congress is "going to shorten that window by a month because our software producers won't be able to adjust to the new tax law until they get it. And we can't do the returns without software because the IRS says you can't send us returns unless they're electronically filed."
That got us wondering about the software company. Turns out, they've got it covered. Because what choice do they have?
"We have teams in place for this kind of thing, particularly for this kind of end-of-year legislation," says Eric Scott, spokesman for Wolters Kluwer, CCH, which makes the Pro System FX tax-filing software O'Connor's firm uses. "I could bring up the fiscal-cliff example. That happened over the stretch between Christmas and New Year's (Eve/Day), and we had people working -- Christmas and New Year's -- to update everything. I think that was more than 50 tax laws that were being decided at that point."
So, good for them. They keep calm and carry on, but it's guys like O'Connor who are going to be sleepless for weeks just to handle an entire season's worth of work just because our lawmakers wouldn't do theirs.
***
Normally, July in the mountains of France's Department of Savoie is about hot sun graced by cool breezes and cooler nights, and it is almost unheard of to find air conditioning anywhere there. Maybe you'll find some in Paris, but not in the countryside.
During one trip to visit the in-laws a few years ago, though, France and much of Europe was gripped in a nasty heat wave. It didn't even have the palliative properties that you'd get from humidity. This was dry, hot air, the kind that made your eyeballs hot. With no A/C, sleeping would be impossible for this American, so we wondered where the fans were kept. No fans either.
When the in-laws returned home from a little trip they'd been on when we had arrived, Monsieur entered his house and saw a typical tabletop oscillating fan sweeping lazily back and forth. He stood rooted for a moment, unsure what to make of it, before arriving at the conclusion that this was a brilliant idea.
And one that never would have occurred to him. Well, maybe, but it's not in the French character, from what we've observed in marriage to it, to seize a problem by the throat and fix it without delay. It's a culture that seems to foster enduring one's problems with grace (and a shrug), and it's enviable in a way because there's a whiff of maturity about it.
That is, until it starts really becoming something like dry rot, like a sense of eternal hopelessness or helplessness, of sniffing "C'est normal" at everything that sucks because they just can't be bothered, even when it's their attitudes that are the biggest obstacle to improving a situation.
So for everyone who wants to trot out the same old tropes about the French and self-defeatism, Angeline Benoit reports that there's a new attitude out there, starting today. Or an old one, for anyone who's read up on Pierre Beaumarchais and Hortalez & Cie.
***
This column doesn't afford a lot of leisure time, and by "a lot," we mean "any." The days are long and days off are claimed by maintenance projects on the Opening Line bureau. The simple joy of reading something that isn't from a news outlet is rare.
When we get that chance, and rereading a Eugene O'Neill play for the umpteenth time doesn't appeal, there is one guilty pleasure: John D. MacDonald's "Travis McGee'' series, about a private eye ("salvage consultant,'' technically) who lives on a houseboat he won in a poker game and who drives a 1936 Rolls Royce converted into a pickup truck.
So it was, in "A Deadly Shade of Gold" (each book in the series has some name of a color in its title), which we're about halfway through, that we found his client/love interest, Nora Gardino, was driving a "little black Sunbeam."
A what?
A what. After looking it up, the ignorance was embarrassing. This was some car in its day. According to the Wikipedia page, the Sunbeam Motorcar Co. Ltd. was an early rival to Rolls Royce and Jaguar, holder of land-speed records, the first British-made car to win a Grand Prix ("Another first for England, eh wot?"), etc.
The book was published in 1965, and since Nora is a sporty model herself, we arrived at the assumption that she was tooling around the book's Fort Lauderdale, Florida, setting in a Sunbeam Tiger. Think in terms of a little bit of MG, a dash of Corvair, a taste of Miata. It's what Maxwell Smart drove. Or maybe she was in a Sunbeam Alpine.
Is it possible this is the same Sunbeam that was registered in the U.K. just a couple weeks ago as Sunbeam Motor Co. Ltd.? And would MacDonald, were he alive today, put anyone in his potboilers in one of the electric vehicles this company plans to make?
***
Before it's here, it's on the Bloomberg Terminal.
LEARN MORE