Amazon's Many Businesses: Here's a Map to Keep It All Straight
1994: Jeff Bezos founds an online bookstore in his suburban Seattle garage
By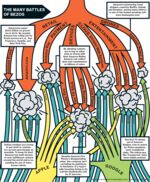 1994 Jeff Bezos founds an online bookstore in his suburban Seattle garage.
From its earliest days, when Amazon.com still mostly sold books, the company's founder, Jeff Bezos, exhorted his employees to ignore the competition and stay focused on customers. Amazon's main rival back then, Barnes & Noble, was still a huge, fearsome force in the bookstore business—and it sued (unsuccessfully) over Amazon's claim of being "the world's largest bookstore."
Those were the simple days. Amazon left Barnes & Noble in the dust while expanding into selling just about everything, from furniture, kitchenware, and clothes to portable digital devices like the Kindle and cloud computing services. With that expansion came a raft of new rivals. The company is now competing against—and, in some cases, simultaneously working with—Google, Apple, IBM, and Alibaba, among other players large and small. (And that leaves out Bezos's two main side projects, the Blue Origin space-travel company and the Washington Post.) Amazon is fighting on so many fronts, you need a battle map to keep track of it all.
Before it's here, it's on the Bloomberg Terminal.
LEARN MORE