NYC to Test Body-Worn Cameras for Police, De Blasio Says
Henry Goldman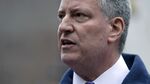 New York took its first step toward outfitting its 34,500 uniformed police officers with body cameras in an experimental program announced today by Mayor Bill de Blasio and Police Commissioner Bill Bratton.
The largest U.S. police department will begin testing devices this week that digitally record street encounters between officers and civilians. The video will provide reviewable evidence when an officer's conduct is questioned, Bratton said.
Studies conducted by the Police Executive Research Forum and the Police Foundation, two nonprofits devoted to analyzing crime-fighting strategies, found that body cameras reduced civilian complaints and officers' use of force. Bratton said today that the test cameras will be up and running in some target precincts by this weekend.
"Body cameras are an additional step in the reforms we are undertaking that will greatly increase the confidence of the people of this city in their relationship with the NYPD," de Blasio said today at a news briefing at the city's new $750 million police academy in Whitestone, Queens. Bratton joined him.
Ferguson Unrest
The use of body cameras has gained currency among law-enforcement professionals and elected officials who have turned their attention to the risks of poor relations between police and minority communities. Questions about how to monitor police conduct sharpened after the Aug. 9 death of Michael Brown, the black Ferguson, Missouri, teenager shot to death after a routine stop escalated into violence, igniting civil unrest across the U.S.
The department has purchased 54 cameras with a $50,000 grant from the Police Foundation to be used by nine officers in six precincts across the five boroughs. The precincts were chosen because they have experienced the most stop-and-frisk street encounters between officers and residents in the past few years, Bratton said.
It will cost $100 a month per device to store data from the cameras so that they can be used in potential litigation, Bratton said. The city paid $212 million in fiscal 2014 stemming from complaints against the police for abusive behavior, wrongful arrests and civil-rights violations.
Fewer Complaints
The commissioner said he first encountered the cameras while consulting with the London police department in 2005 and 2006, a period in which he served as chief of the Los Angeles Police Department.
"What you see is reforms in the behavior of the officers and in the behavior of the public," Bratton said at the news briefing. "With the presence of video, the complaints go away."
President Barack Obama endorsed the camera idea Dec. 1 after a meeting of mayors, civil-rights leaders and police chiefs. He called for $75 million to help local law-enforcement agencies purchase about 50,000 devices. De Blasio attended the meeting.
At a news briefing yesterday, the mayor announced the city's crime rate fell more than 4 percent this year and that homicides were at a record low of 290 as of Nov. 30, compared with 311 for the first 11 months of 2013.
De Blasio said the cameras represent one of several tactics to reduce hostile relations, including fewer stop-and-frisk street encounters and arrests for marijuana possession as well as training on how to avoid force.
Gearing Up
Officers are prepared for unrest as early as this weekend, Bratton said, as he expects demonstrations in the aftermath of a grand-jury decision on whether to issue criminal charges for the July 17 homicide of Eric Garner, 43, a Staten Island man who died after an officer subdued him with a chokehold.
Bratton said today that he joined Staten Island police commanders this week in a meeting with religious leaders and others who have been working to ensure that calm prevails in the event of demonstrations in response to the grand jury decision.
"They had a very large march that went off very peacefully this summer, so we're confident that the leadership over there, working with various community groups, will ensure that people will get to have their voices heard without disturbance," Bratton said.
Before it's here, it's on the Bloomberg Terminal.
LEARN MORE