ICBC Markets Record Offshore Yuan Bond Sale Amid FX Push
Christopher Langner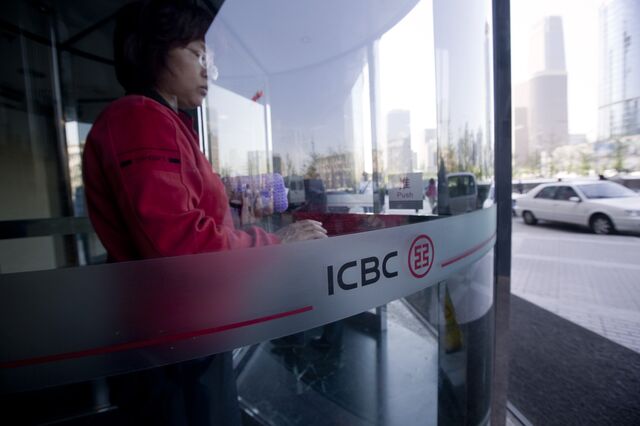 Industrial & Commercial Bank of China Ltd. is marketing the largest sale of offshore yuan bonds as China pushes for the wider use of its currency as an alternative to the dollar in business and finance.
The nation's biggest lender by market value is offering about 12 billion yuan ($1.95 billion) of perpetual notes, people familiar with the matter said today. It's one part of a three-part $5.7 billion sale. China's government sold an 8.4 billion yuan Dim Sum bond in May, Bloomberg-compiled data show.
Asia's biggest economy has been approving yuan clearing hubs across the world to pave the way for the liberalization of its currency and capital markets. The yuan ranked seventh for usage in global payments in September, accounting for 1.72 percent of all transactions, a record share, the Society for Worldwide International Financial Telecommunications said in a statement posted on its website Oct. 30.
China "could be setting a benchmark in the offshore yuan space and it fits in with its overall currency internationalization," said Matthew Phan, a Singapore-based analyst at independent research firm CreditSights Inc. "Once this deal is done, there could be more Basel III bonds in that market from other Chinese banks."
ICBC's yuan notes can be redeemed in five years and are being marketed to investors at a yield of 6 percent, said the people, who asked not to be identified because the details aren't set.
Euro, Dollars
ICBC is also marketing perpetual securities callable in five and seven years respectively in dollars and euro, both with the same yield guidance, the people said. The dollar tranche may be $2.95 billion while the euro portion could be about 600 million euro ($743 million).
The potential $5.7 billion transaction comes after Bank of China Ltd.'s $6.5 billion sale of offshore additional Tier 1 notes in October. That issue was the biggest-ever single tranche U.S. dollar bank capital sale. It was denominated in yuan although settled in dollars at a rate established the day the notes priced.
Chinese lenders have sold $72 billion of securities that count as capital this year, more than banks in any other geography, as bad debts soared and economic growth slowed. The amount surpasses what financial institutions have raised in France and the U.K. combined.
ICBC's securities, which may price as early as today, will also count as capital under the new Basel III banking regulations. The notes can be converted into the bank's Hong Kong listed stock at HK$5.00 apiece if ICBC is deemed no longer viable.
Before it's here, it's on the Bloomberg Terminal.
LEARN MORE