ALEC is Back and Ready to Resume its Conservative Agenda
Damaged by public-relations disasters, the free-market policy group was empowered last month by Republican statehouse victories.
By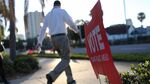 About 500 state legislators from across the country will pour themselves cups of coffee and file into conference rooms of the Hyatt Regency hotel in Washington on Wednesday to talk about cutting taxes and killing regulations. This is Legislating 101, brought to you by corporate America.