Swedish PM Calls Snap Election for Next Year as Budget Fails
Amanda Billner, Johan Carlstrom and Niklas Magnusson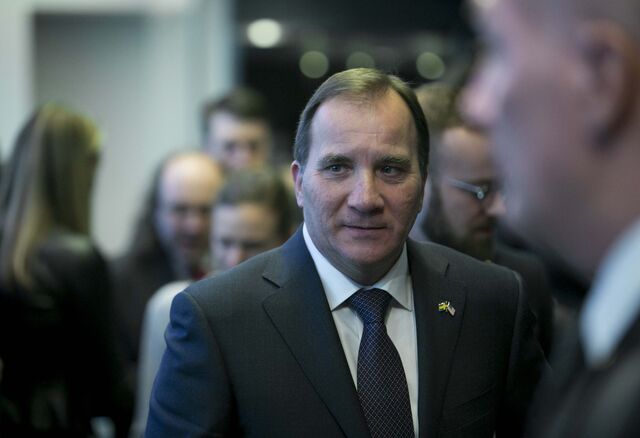 Prime Minister Stefan Loefven called Sweden's first snap election in more than half a century after an anti-immigration party ignored parliamentary tradition and killed his budget proposal.
Loefven, 57, was today unable to get his first budget through parliament after the Sweden Democrats forced its defeat, calling for deep reductions in immigration amid record inflows into the Nordic nation. Loefven's offers for a broader coalition were also rejected by the former Alliance government.
"All these five parties have acted irresponsibly," he said at a press briefing today in Stockholm. "This is unprecedented in Swedish history."
The former union boss led the Social Democrats back into power by ousting Fredrik Reinfeldt's center-right coalition in September. The premier said an election will be held March 22, the first time Sweden has held an early vote since 1958.
The krona remained stronger against the euro after the announcement and bond yields were little changed. The largest Nordic economy, home to some of the world's best-known brands including retailer Hennes & Mauritz AB and truckmaker Volvo AB, is still trying to recover from an export slump as unemployment hovers above 8 percent and deflation takes hold.
Who Gains?
The largest opposition party, the Moderates, will probably have to face voters without its two biggest profiles, Reinfeldt and former Finance Minister Anders Borg, who both announced they would leave politics in September.
"I think it's probable that the larger parties, the Social Democrats and the Moderates, would gain in an extra election in a situation like this," said Jenny Madestam, a political scientist at Stockholm University. "Voters are likely to rally behind one of the bigger parties in an attempt to produce a stable government."
The Social Democrats in October formed a minority coalition with the Green Party, vowing to cut Swedish unemployment to the lowest rate in the European Union. To finance more spending, it plans to roll back some of the tax cuts pushed through by the previous government over the past eight years.
"Sweden's parliament has voted for the right budget but still has the wrong government," said Anna Kinberg Batra, parliament group leader of the Moderates, at a press briefing.
The Sweden Democrats, which has held the balance of power since September, said yesterday it will reject all government budgets that support increased immigration.
No Talks
The unprecedented move goes against parliamentary tradition, which is designed to ease minority rule. The Sweden Democrats, which other parties in the legislature have refused to work with, called on the government to cut immigration by 50 percent and give "signals" in the right direction in order to gain its support.
The party won 13 percent of votes in the election on a pledge to reduce immigration. Sweden, a country of about 10 million people, has become a magnet for immigrants fleeing war in Syria, Iraq and other trouble spots. The Migration Board last month raised its forecast for the number of asylum seekers expected next year and now sees a main scenario of 95,000. That would exceed the previous record of 84,000 in 1992 during the wars in the former Yugoslavia.
Loefven, a former welder who was raised by foster parents after his mother abandoned him at 10 months, took over as leader of the Social Democrats in 2012. Back then, Sweden's biggest political group was hemorrhaging voters after a series of scandals forced Hakan Juholt to resign as party leader after just 10 months.
"I've taken responsibility and will continue to take responsibility," Loefven said. "I will not try to take new initiatives for talks but if there are parties who would like to discuss, they know where I am."
Before it's here, it's on the Bloomberg Terminal.
LEARN MORE