Ryan Says Tax Revamp Focusing on Businesses Would Mark Progress
Richard Rubin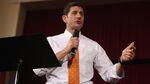 A revamp of the U.S. tax code focused on corporations and other businesses would mark significant progress even if tax changes for individuals have to wait, said Representative Paul Ryan, the next chairman of the House Ways and Means Committee.
Ryan, a Wisconsin Republican, said today the two parties may be too far apart on individual taxation because the Obama administration favors high rates on upper-income individuals.
In that context, Ryan said, it would be a step in the right direction "if we can get halfway toward comprehensive tax reform" by lowering the corporate rate and helping companies that pay their taxes through their owners' individual returns.
Ryan, 44, will become Ways and Means chairman in January, replacing Dave Camp, who is retiring. He spoke at the Wall Street Journal's CEO Council in Washington.
The Obama administration also has called for focusing a tax revamp only on businesses.
The administration wants to set the top rate for most corporations at 28 percent instead of the 25 percent Ryan wants. The two parties disagree on what to do about the so-called pass-through businesses that are subject to individual tax rates.
The parties also are divided on the details of which tax breaks should be curtailed and how the international tax system should be structured.
Eventually, Ryan said, the U.S. tax code will need to be changed.
"It's going to happen because it must happen for our economic health, our survival," he said. "It's either going to happen in 2015 or 2017, the way I see it."
Ryan was the Republican vice presidential nominee in 2012.