Rajan Holds India's Rates While Signaling Cut to Come: Economy
Sandrine Rastello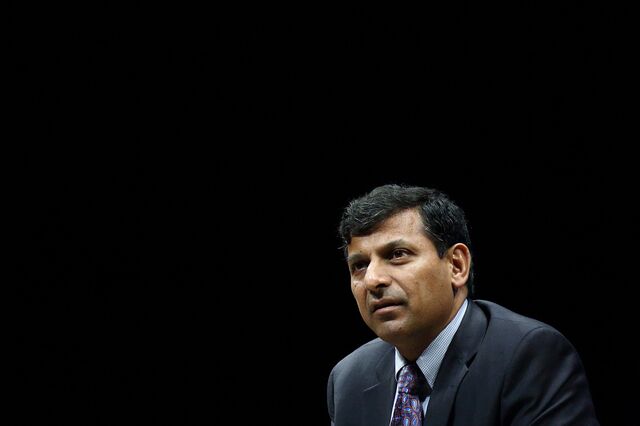 India's central bank left interest rates unchanged for a fifth straight meeting while signaling a possible easing early next year after Prime Minister Narendra Modi's government called for lower borrowing costs.
Governor Raghuram Rajan kept the benchmark repurchase rate at 8 percent, the Reserve Bank of India said in a statement in Mumbai today, a move predicted by 44 of 48 economists in a Bloomberg survey. Risks to the central bank's January 2016 target of 6 percent inflation "appear evenly balanced," he said today in a statement.
"A change in the monetary policy stance at the current juncture is premature," Rajan said. "However, if the current inflation momentum and changes in inflationary expectations continue, and fiscal developments are encouraging, a change in the monetary policy stance is likely early next year, including outside the policy review cycle."
As China seeks to revive its economy with lower rates and Russia and Brazil raise them to fight inflation, Rajan's middle path reflects his priority to reduce entrenched price pressures to lay the ground for stronger growth. A drop in global commodity prices may open a window in the coming months for his first rate cut since taking office.
"The RBI is clearly alluding to them having enough scope to ease," Vishnu Varathan, Singapore-based economist at Mizuho Bank Ltd., said by phone, referring to the central bank. "Governor Rajan has done an admirable job of putting to sleep most of the speculation that he may bend to pressure but, at the same time, he has been very objective about what the balance of risk is."
'Bear With Us'
Calls for a rate-cut intensified as growth slowed last quarter and inflation eased to below Rajan's goal. He told reporters today that the government is "comfortable" with a central bank-panel proposal to set a target of 4 percent plus or minus 2 percentage points after 2016.
"Its very short-sighted when people say we're not helping growth this quarter," Rajan said at the briefing in Mumbai. "We've been working on a framework, we're nearly there. I would say bear with us and hopefully, if we can stay there, we will produce years of sustainable growth."
Consumer prices rose 5.52 percent in October from a year earlier, the slowest pace since the index was created in January 2012. Gross domestic product expanded 5.3 percent in the three months through September, compared with 5.7 percent in the previous quarter.
Fiscal Targets
The Reserve Bank was surprised by the extent of the fall in inflation, Rajan said in a conference call with analysts today. Policy makers are seeking to ensure that the pace of disinflation will continue, expectations about price pressures are being lowered and the government is meeting its budget goals, he said.
"As we go into the early part of next year we will have more confidence that the government is achieving its fiscal targets," Rajan said. "We can be confident in expectation but then we will be confident in realization when we actually see that happen."
India's benchmark stock index, among the world's best performers this year, fell 0.4 percent today. The rupee strengthened 0.2 percent as of 4:12 p.m. in Mumbai and the yield on the 10-year sovereign bond fell to 7.96 percent from 8.06 percent.
Interest-rate swaps show investors expect the benchmark rate will drop by more than 100 basis points, or 1 percentage point, by the end of 2015, according to data compiled by HSBC Holdings Plc. That's the steepest cut among 14 emerging markets tracked.
Powerful Impact
Banks are yet to transmit easier monetary conditions into lower lending rates, Rajan said in the statement today. This suggests that "monetary policy shifts will primarily have signaling effects for a while. Nevertheless, these signaling effects are likely to be large," he said.
The Reserve Bank's comments on signaling means the first reduction may well be 50 basis points, according to Kaushik Das, an economist at Deutsche Bank AG. He sees the initial cut in March or April, after the government presents its budget, possibly followed by further cuts totaling 50 basis points more.
Commercial lenders must take comfort from the central bank's pledge to provide multiple interest-rate cuts, Prasanna Ananthasubramanian, chief economist at ICICI Securities Primary Dealership in Mumbai, said by phone.
Rajan's message is that "once we start cutting it will be like a path where further cuts would be in the offing," Ananthasubramanian said. He is maintaining his view of total 50 basis points of cuts in 2015.
Government Steps
The government needs to take steps to sustainably contain costs as the drop in global commodity prices is responsible for easing inflation, said Shashwat Sharma, a partner at KPMG India. Brent crude oil has fallen about 35 percent this year.
"Therefore, we understand and appreciate the RBI's stance on no cut in interest rates and look forward to structural changes by the government in the domestic economy," he said by e-mail.
A shortfall in indirect taxes remains a challenge, Finance Minister Arun Jaitley said in New Delhi Nov. 21, four days after he said that lowering the cost of capital would give a "good fillip" to the economy. Vehicle sales fell 3.8 percent in October from a year earlier, the first contraction since December 2013, according to data from the Society of Indian Automobile Manufacturers.
Goldilocks Period
Since taking charge in May, Modi has scrapped subsidies in diesel fuel, allowed more foreign investment in sectors including defense, and has encouraged global companies to shift their factories to India.
His government will now focus on simplifying taxes and land acquisition while the Reserve Bank will implement formal inflation targeting, Nomura economists Sonal Varma and Aman Mohunta wrote in a Nov. 24 report.
"A prudent RBI, continued reforms and lower commodity prices should further underscore India's improving fundamentals," they wrote. "Thus, a Goldilocks period of lower inflation and higher growth lies ahead."
Before it's here, it's on the Bloomberg Terminal.
LEARN MORE