With Obama's Support, Police Body Cameras Could Become the New Normal
By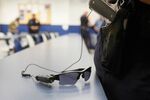 The Obama administration thinks body cameras can prevent future Fergusons. It will dedicate $263 million to improve community relations with police through cameras, as well as additional training and oversight on issues like police use of military equipment, pending Congressional approval. The funding includes $75 million over three years to help police buy cameras, in addition to support for better training and oversight.
For people who support putting cameras on cops, this is a very big deal. The White House plan is intended to outfit 50,000 officers with cameras, which would almost double the number of cameras in use in the country. There are currently two major U.S. companies selling body cameras: Vievu, which has sold more than 40,000 cameras to 3,900 police agencies, and Taser, with 30,000 cameras in use by 1,200 agencies. The $75 million earmarked to purchase new body cameras is more than seven times the total revenue Taser earned from selling the devices in 2013.
White House support for cameras isn't surprising. In the days after Michael Brown was shot in Ferguson, Mo., a petition on whitehouse.gov in support of legislation requiring all state, county, and local police to wear cameras gathered nearly 155,000 signatures. Roy Austin of Obama's Domestic Policy Council posted an official response that described years of work by the administration to advance the use of body-worn and dashboard cameras. Police departments have long been coming around on cameras, but progress has been slow. Adopting police cameras requires thousands of independent agencies to come to terms with thorny privacy and accountability issues.
Jim Bueermann, president of the Police Foundation, says the biggest barrier is cost. The White House will match the spending of local and state agencies that decide to buy cameras, mirroring a similar federal program that has led to the purchase of over 1.1 million vests for law enforcement agencies. The money won't come without strings attached: Bueermann expects a requirement that every officer in participating departments wear a camera at all times while in the field.
Federal support could be a major tipping point in policing and technology. "In five years, this will be ubiquitous," Bueermann says. "It will be more unusual to see officers not wearing a body cam than wearing one."
This puts the companies that make the cameras in an interesting position. One limiting factor could be Vievu and Taser's ability to keep pace with demand, although representatives from both companies scoff at this idea. Bueermann says that the market is ripe for new competitors, given that cameras are still expensive, compared to similar products in the commercial market.
If they manage to stay in the driver's seat, both companies are looking at potential windfalls. Wall Street has for months been anticipating good days ahead for Taser. The company's stock has risen more than 75 percent since Brown was shot in early August.
Before it's here, it's on the Bloomberg Terminal.
LEARN MORE