Is Ted Cruz Right About the Entire World Being 'on Fire'? Let's Find Out!
The Texas senator goes en fuego about terra firma.
By and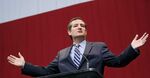 In railing against President Obama's foreign policy on Tuesday, Senator Ted Cruz observed that it is "almost like the whole world is on fire now," adding, "I guess Antarctica is doing okay."