Fischer Says Fed Nearing End of 'Considerable Time' Rate Pledge
Jeff Kearns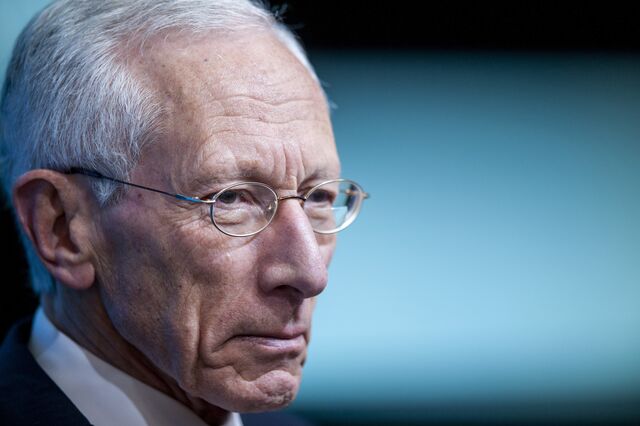 Federal Reserve Vice Chairman Stanley Fischer signaled officials are closer to dropping a vow to keep interest rates low for a "considerable time" and will stress economic data to guide the first increase since 2006.
"You saw in the minutes of last meeting there was some discussion of that, and it's clear we are closer to getting rid of that than we were a few months ago," he told the Wall Street Journal CEO Council Annual Meeting in Washington today.
"It wouldn't be appropriate for me to give you a guess as to what my colleagues and I are going to do at the next meeting," he said. "You may assume we're not going to suddenly stop that and not say anything, just take it out and leave no guidance'' on interest rates, he said.
The next meeting of the policy-setting Federal Open Market Committee is on Dec. 16-17. The U.S. central bank has held rates near zero since 2008. A majority of policy makers expect they will start raising rates at some point next year, and investors are betting on a mid-2015 tightening.
"We don't want to surprise markets," Fischer said. "On the other hand, we can't give precise estimates about dates that we don't know, and that's why the emphasis always goes back to the data, and not to the date."
He also said while the central bank can't judge the prices of every asset class, he isn't seeing evidence of prices at levels that could have major consequences for the U.S.
"If you look at the financial difficulties that lead to financial crises they typically involve real estate," Fischer said. "We are very far from that. There are a few local areas where risk premiums are lower than you would like to see but I don't see an overall problem of that sort."
Asset Bubbles
Fischer leads the Fed's committee on financial stability, which is working to find new ways to monitor for emerging threats to financial stability and avoid new asset-price bubbles that could cause a repeat of the financial crisis.
Fischer said the Fed "can't sit around judging every single asset price" and deciding which ones it will need to address and which it won't.
"You've got to leave the markets to do their thing and for us to make an overall judgment on the overall level of what's going on," Fischer said. "If we see a crisis that looks like a bubble or a boom in a sector that looks like it will have major consequences for the whole economy we need to intervene. If it's something that the markets should be correcting, the market should correct it."
Fischer, 71, joined the Fed in May after spending much of the past quarter century in global policy making as a central banker, top International Monetary Fund official and former World Bank chief economist. He left the IMF in 2001 and joined Citigroup Inc. as a vice chairman from 2002 until 2005. Last year he stepped down as Bank of Israel governor, midway through a second five-year term.
Before it's here, it's on the Bloomberg Terminal.
LEARN MORE