Bank of Tokyo-Mitsubishi Among Japan Banks Cut by Moody's
Monami Yui and Shingo Kawamoto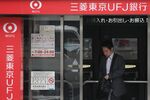 Mitsubishi UFJ Financial Group Inc. units were among five Japanese lenders downgraded by Moody's Investors Service today after it cut the nation's credit rating.
Bank of Tokyo-Mitsubishi UFJ Ltd. and Mitsubishi UFJ Trust and Banking Corp., part of Japan's biggest banking group, were lowered one level to A1 with a stable outlook, Moody's said in a statement. Sumitomo Mitsui Banking Corp., Shizuoka Bank Ltd. and Chugoku Bank Ltd. also had their long-term debt ratings cut.
Moody's yesterday lowered Japan's rating to A1, the fifth-highest grade, citing uncertainty over whether Prime Minister Shinzo Abe's administration will achieve its deficit-reduction goals and succeed in boosting growth. Investors will be watching whether Standard & Poor's follows suit, said credit analyst Yusuke Ueda.
"There may be risk that transaction terms in the derivative markets will deteriorate and overseas funding costs may rise for the lenders" if S&P acts, Ueda, who works at Bank of America Corp. in Tokyo, said by phone today.
Moody's said today's move reflected its view that the capacity of the government to support banks "is best measured by its own debt rating."
Abe last month postponed an increase in the nation's sales tax, judging that the economy was too weak after an April bump triggered a recession. The Bank of Japan is buying record amounts of bonds issued by a government that's already burdened by the world's heaviest public debt load.
S&P rates Japan at AA-, equivalent to the Aa3 level at Moody's before the reduction. Fitch Ratings has Japan at A+, matching Moody's.
Sumitomo Mitsui is a subsidiary of Japan's second-biggest bank by market value. The country's third-largest bank is Mizuho Financial Group Inc., whose lending unit is rated A1 by Moody's.
Before it's here, it's on the Bloomberg Terminal.
LEARN MORE