U.S. Indexes Rise to Records as WTI Oil Gains; Euro Falls
Stephen Kirkland and Jeremy Herron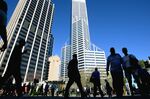 U.S. stocks rose, with benchmark indexes climbing to records as data on hiring and services industries stoked optimism over the economy. The euro slumped on speculation the region's central bank will boost stimulus.
The Standard & Poor's 500 Index added 0.4 percent to an all-time high of 2,074.33 by 4 p.m. in New York, while the Dow Jones Industrial Average climbed to 17,912.62. Energy stocks jumped 1.2 percent as U.S. crude oil rose for the second time in seven days. The Stoxx Europe 600 Index advanced 0.6 percent. The euro slid to its lowest level versus the dollar in more than two years as a gauge of the greenback versus major peers advanced to a five-year high. Gold futures gained 0.8 percent.
A private report showed hiring in the U.S. topped 200,000 workers for the seventh time in eight months before government payrolls data due Dec. 5, while the Federal Reserve's Beige Book indicated "widespread" hiring. Service industries in the U.S. expanded last month at the second-fastest pace in more than nine months. In the euro area, services and manufacturing expanded less than initially estimated, with European Central Bank President Mario Draghi to review policy tomorrow.
"The market is going to continue to move higher because there's nothing there to suggest otherwise," Anastasia Amoroso, global market strategist at JPMorgan Investment Management, said by phone. The JPMorgan Chase & Co. division oversees about $500 billion in assets. "The catalysts for this week are more tomorrow and Friday. Investors will be clamoring to hear some assurance from Draghi that if needed, he will consider another round of asset purchases."
Amazon Sinks
The S&P 500 has rebounded 11 percent from a low reached in October amid optimism the world's largest economy is strong enough to withstand tighter monetary policy.
Industrial shares rallied 1.3 percent, extending gains after the Beige Book release. Amazon.com Inc. slid 3 percent and Alexion Pharmaceuticals Inc. lost 1 percent to pare the Nasdaq 100 Index's advance to 0.2 percent.
West Texas Intermediate crude rose 0.8 percent to $67.38 a barrel in New York after data from the U.S. Energy Information Administration showed the nation's oil inventories dropped as refineries bolstered operating rates. Brent oil erased early gains to settle down 0.9 percent at a more-than four-year low of $69.92 a barrel as investors continued to digest OPEC's decision last week not to cut output in the fact of a glut.
"If oil is bottoming and bouncing, this is a heck of a buying opportunity for energy stocks," Jim Paulsen, who helps oversee $345 billion as chief investment strategist at Wells Capital Management, said by phone from San Francisco. "They are, on a relative value basis, very attractive."
Services Data
A sub-index of energy producers climbed for a third day, led by gains of more than 3 percent in Cimarex Energy Co., Diamond Offshore Drilling Inc. and QEP Resources Inc. Exxon Mobile Corp. added 0.8 percent.
Data today showed service providers from U.S. retailers to builders expanded in November at the second-fastest pace in more than nine years. Companies added 208,000 workers in November, figures from ADP Research Institute indicated.
Separately, the Fed said "employment gains were widespread across districts" as the economy continued to expand.
"A number of districts also noted that contacts remained optimistic about the outlook for future economic activity," the Fed said today in its Beige Book business survey, based on reports gathered on or before Nov. 24.
Gold futures for February delivery advanced to $1,208.70 an ounce on the Comex as the rebound in energy prices damped concern over slowing inflation, reviving demand for the precious metal as a store of value. Sixty-day volatility on the futures jumped to the highest level since March.
Dollar Index
The Bloomberg Dollar Spot Index, which tracks the greenback against 10 trading partners, rose 0.3 percent in a second day of gains, climbing to the highest level since 2009 amid speculation the U.S. economy is strong enough to withstand higher interest rates and as Japan and Europe act to stimulate their economies.
The dollar added 0.5 percent to 119.80 yen, and touched 119.87, the highest level since July 2007. The U.S. currency appreciated as much as 0.7 percent to $1.2301 per euro, the strongest level since August 2012. The Australian and New Zealand dollars lost at least 0.4 percent to the greenback.
"The dollar's uptrend is likely to continue and that's driven equally, if not more, by what's going on outside the U.S. as well as what's happening in the U.S.," said Steven Barrow, head of Group of 10 foreign-exchange research at Standard Bank Plc in London.
European Markets
In Europe, two shares rose for each that declined in the Stoxx 600. Commodity producers propelled the gauge to within 0.1 percent of a six-year high. The European equity benchmark has rallied 13 percent from its October low after Draghi said the ECB may broaden its asset-buying program to include government bonds.
UBS Group AG said it now expects large-scale quantitative easing in Europe as inflation will remain low given the oil price drop, economists led by Reinhard Cluse wrote in a report.
"Everyone wants Draghi to leave the option for QE out in the open," said Carsten Hilck, who oversees $4 billion as a senior fund manager at Union Investment Privatfonds GmbH in Frankfurt. "Even if he doesn't make a decisive comment, that will be enough to keep markets happy. He just has to show the gun, but not yet use it."
Ten-year Italian bonds rose for a fifth day, pushing yields down three basis points, or 0.03 percentage point, to 1.98 percent. Spain's 10-year rate dropped two basis points to 1.83 percent.
Ruble Rebounds
The ruble rebounded, strengthening 1.5 percent to 53.1753 per dollar after earlier weakening to a record-low 54.9090. A report today showed Russian service-industry activity slumped to a 5 1/2-year low in November.
"It looks like the central bank is back on the market," Evgeny Shilenkov, head of trading at Veles Capital LLC in Moscow, said by phone.
Russia's currency has depreciated 38 percent this year as sanctions levied against the country for its involvement in the Ukraine conflict created a dollar shortage and sliding oil prices helped send the country toward its first recession since 2009. The Economy Ministry estimated yesterday that gross domestic product will shrink 0.8 percent next year, while a former central banker spoke of "some panic" in the financial system.
Before it's here, it's on the Bloomberg Terminal.
LEARN MORE