Apple Bears Get Paid as Put Contracts Double Amid Drop
Callie Bost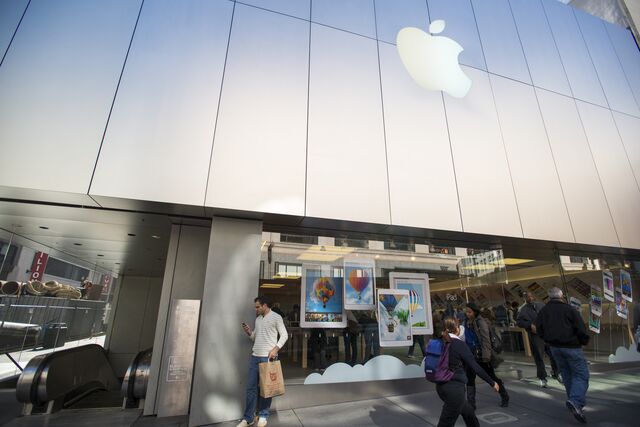 For options trader Tim Biggam, yesterday was the day he was waiting for in shares of Apple Inc.
The iPhone maker's minute-long swoon starting 20 minutes after trading began contributed to the biggest jump in the Chicago Board Options Exchanges Apple Volatility Index in two years. The stock plunged almost 5 percent during one 60-second stretch and at its lowest point was down 6.4 percent from the previous close, the largest retreat since January.
Prices on bearish Apple contracts soared as much as 400 percent, a rare payday for traders who have added to such positions in the options over the past month. Before yesterday, Apple had rallied 48 percent in 2014 and was up 24 percent since global equity markets bottomed in mid-October.
"I was very happy to have a day like today," Biggam, chief options strategist at TradingBlock, a brokerage firm at CBOE, said by phone yesterday. "In a stock that goes up every day, when everyone's on the wrong side of the boat, it falls a lot quicker."
About $40 billion of market value was erased and then mostly restored yesterday as shares of the Cupertino, California-based iPhone maker slumped along with other technology stocks.
Quick Swoon
The decline was fastest between 9:50 a.m. and 9:51 a.m. in New York, when more than 6 million Apple shares changed hands at prices from $117 to $111.27 in more than 30,000 different trades. Apple closed down 3.3 percent to $115.07, its worst day in two months.
Investors snapped up protection against more losses, boosting prices on 19 put contracts more than 200 percent. The cost of options expiring Dec. 5 giving investors the right to sell Apple shares at $112 increased the most of any contract, soaring more than 409 percent.
The CBOE Apple VIX rose as much as 28 percent yesterday, its biggest jump since March 2012. Biggam, who bought $115 Apple puts expiring Dec. 20 last week, said he sold his position after the initial drop in the shares. That contract more than doubled in price yesterday.
"When things get stretched in one direction, taking a counter-trend position is a great use of options strategies," Biggam said. "I happened to get lucky and catch it bigger than I thought."
Steve Dowling, a spokesperson for Apple, declined to comment on the options trading.
$700 Billion
About 0.9 contracts betting on a drop were owned for every bullish one through last week, 31 percent higher than the average put-call open interest ratio over the last 12 months. The ratio reached nearly one-to-one on Nov. 21, a five-year high.
Apple's retreat came a week after its market value rose above $700 billion, a milestone that no other U.S. company has ever reached. The shares climbed 7.2 percent in October and 10 percent in November amid confidence in Chief Executive Officer Tim Cook's plan to update core products and introduce a mobile payment system and smartwatch.
"If you've been trying to play this from the bear side, it was a rare opportunity for a win," Steve Sosnick, equity risk manager at Timber Hill LLC, the market-making unit of Greenwich, Connecticut-based Interactive Brokers Group Inc., said yesterday by phone. "The open was orderly and there was a little bit of selling in the first 15 minutes or so, and then whoosh. The storm appeared out of nowhere and disappeared just as quickly."
Modest Reduction
In a note to clients today, Morgan Stanley's chief U.S. equity strategist, Adam Parker, said his model has suggested a "modest reduction" in Apple shares after the stock doubled over the past three years. He also lowered his recommendation on the technology industry to the equivalent of hold from the equivalent of buy.
Apple's retreat was mirrored in technology stocks from Tesla Motors Inc. to TripAdvisor Inc. and Facebook Inc. and came just before the Standard & Poor's 500 Index pared a decline of 0.8 percent after a report showed U.S. manufacturing expanded faster than economists projected in November. Apple shares have rallied 44 percent in 2014, the 16th biggest gain in the Nasdaq 100 Index of technology stocks.
None of the major stock exchange operators reported clearly erroneous trades following the move in Apple. Neither Nasdaq OMX Group Inc., NYSE Group or Bats Global Markets received any such filing, which is made when a broker mistakenly executes trades and wants to cancel them.
Declines in Apple may have accelerated when the shares reached prices at which investors had placed automatic instructions to sell, known as stop-loss orders, according to Michael Block, chief equity strategist at Rhino Trading Partners LLC.
Lost Momentum
"It looks like some big stops went off," Block said in an e-mail yesterday. "Looking at the chart, $117 looks like someone's key level here. When something like that accelerates it sets off more stops and then others take notice. It causes a lot of damage."
Apple stock makes up more than 14 percent of the Nasdaq 100, which fell as much as 1.4 percent yesterday. In the index, Tesla lost 5.3 percent, TripAdvisor sank 3.5 percent and Facebook slid 3.4 percent.
The drop in Apple also came as the market opened lower as weaker economic data in China and fewer shoppers seeking Black Friday sales overshadowed an expansion in American factory output. The S&P 500 fell 0.7 percent to 2,053.44 yesterday, while CBOE's VIX of options prices on the benchmark equity gauge jumped 7.2 percent to 14.29.
The VIX dropped 10 percent to 12.85 at 4 p.m. in New York.
"There were a lot of momentum names that were hit around that time and Apple did take quite a hit out of the gate," Todd Salamone, senior vice president of research at Cincinnati-based Schaeffer's Investment Research, said by phone. "The volume was pretty heavy, so it could've just been one big investor taking profits or getting out of their position. The move was dramatic, but the recovery was dramatic as well. It amounts to a lot of intraday noise."
Before it's here, it's on the Bloomberg Terminal.
LEARN MORE