Princeton Students Say They're Afraid to Seek Help After Suicidal Freshman Was Forced Out
By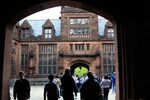 Two years after Princeton barred a suicidal undergraduate from campus, students say they worry that talking to mental health counselors will get them tossed out of school. "It's a common attitude around campus that people are afraid to go to CPS because they're worried they'll get kicked out," says 19-year-old sophomore Marni Morse, referring to the university's Counseling and Psychological Services. "Students get this idea that they shouldn't go get help."
Conversations about mental health have become common on campus in response to a lawsuit filed in March by the student who attempted suicide in 2012. Then a freshman, the student, referred to in the suit as W.P., swallowed about 20 antidepressants. Almost immediately he sought help from the university's health center, was transferred to a hospital, and began to recover. A few days later, according to the lawsuit, news from school administrators reached him in his hospital room: He could no longer attend classes, live in his dorm, or enter the campus.
W.P., now 21, alleges that by kicking him out, Princeton discriminated against him under the Americans With Disabilities Act, broke his right to patient confidentiality, and intentionally inflicted emotional distress (PDF), causing "extreme embarrassment, stress, emotional pain, and mental anguish." Lawyers for Princeton dispute W.P.'s account and last week filed a memorandum aiming to get several of his claims dismissed (PDF).
Princeton would not comment on the lawsuit, but in court documents the school suggests W.P. had made multiple suicide attempts, had a history of substance abuse, and had at one point planned to buy firearms to shoot himself. Circumstances like W.P.'s are rare, the school contends: The vast majority of those who seek help for mental illnesses aren't asked to leave school. "Unless a student is an imminent threat to themselves or others, students have full control and decision power over whether they want to take time off and withdraw," says university spokesman Martin Mbugua.
Even as it fights W.P. in court, however, Princeton is waging a publicity offensive to reassure students with psychological issues that what allegedly happened to him won't happen to them. The university has held open forums to discuss its mental health policies and published an FAQ (PDF) explaining students' rights to patient confidentiality. Yet Princeton, like other schools that have faced similar controversies, has to strike a difficult balance between assuring students in need that they won't be penalized for coming forward and taking action when students might harm themselves, or others, on the school's watch.
W.P.'s lawsuit has made Princetonians more aware of how those evaluations could affect them. "I've had students come to me and say, 'Hey, Zhan, I'm afraid if I go to CPS and tell them I'm struggling, the next thing I know, I'm going to be asked to withdraw,' " says 21-year-old Zhan Okuda-Lim, a senior at Princeton and chairman of the school's mental health initiative board.
Most who get help won't share W.P.'s outcome. Every year roughly 1,500 out of about 7,910 undergraduate and graduate students make appointments to see a CPS clinician to seek help for issues ranging from depression to difficulty adjusting to school, Princeton says. In the 2012-13 academic year, just 35 students took a leave of absence or withdrew from the university for mental health issues, according to a fact sheet on Princeton's website (PDF). "In almost all cases, it is the student who initiates the leave or withdrawal," and only about three to five students a year are "strongly" counseled to leave, the university said in the document.
Students want "to know that the university is both looking out for their best interests and also protecting their confidentiality and rights under the law," Okuda-Lim says. "We need to dispel misconceptions that a student who goes to CPS and says something will two hours later get an e-mail saying, 'We want you to withdraw.' "
In fact, depending on what they say, they might. W.P. claims that Princeton's mental health officers violated his right to patient confidentiality by discussing his case with administrators. CPS says on its website that it keeps students' information confidential, with one exception: "where there is imminent danger to self or others."
Before it's here, it's on the Bloomberg Terminal.
LEARN MORE