Port Authority Employees With Political Ties Still on Job
Martin Z. Braun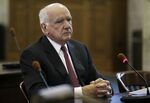 Terriann Moore-Abrams served on Governor Chris Christie's transition team before landing a job at the Port Authority of New York & New Jersey in 2010, handling local economic-development initiatives.
She still works at the transportation agency. So does a former Republican mayor of a New Jersey town who endorsed Christie, and the son of a former assembly speaker. They are among 31 employees from New Jersey hired outside the "standard recruitment process" from 2010 to 2014 who are performing adequately or above standards, according to an internal review.
The authority has been criticized by lawmakers for decades as a place where jobs were awarded to politically connected applicants. The practice has come under more scrutiny since Christie allies ordered lane closings last year at the George Washington Bridge. While New York also awards Port Authority patronage jobs, New Jersey handed out more than three times as many in the past four years.
Chairman John Degnan, nominated by Christie in April, said he disagreed with media descriptions of the Port Authority as a patronage mill.
"The reality is the facts are significantly different than that," Degnan said in a telephone interview. "I have no intention of going after those people."
Twenty-two other employees hired outside the regular process have left the agency, according to a list provided by the authority. That includes David Wildstein, an official charged with carrying out Christie's agenda at the authority.
Wildstein Out
Wildstein, a former political blogger who went to high school with Christie, shut access lanes last September at the George Washington Bridge in Fort Lee, whose Democratic mayor didn't endorse the Republican governor's re-election. Christie has denied any knowledge or involvement.
The revelations -- and subsequent reports of conflicts of interest, cronyism and diversion of Port Authority cash for New Jersey road projects -- have sparked state and federal probes and the resignations of Wildstein and two Christie appointees: Deputy Executive Director Bill Baroni and Chairman David Samson.
They also provided a catalyst to overhaul the 93-year-old agency, which has more than 7,000 employees and oversees the New York City area's three major airports, four bridges, two tunnels, marine terminals, a commuter rail and the World Trade Center.
Seeking Transparency
On Nov. 13, New Jersey Assembly approved a bill to boost transparency at the authority. The measure, which already passed the senate and the New York legislature, would require the agency to file annual audits, protect whistle-blowers and hold at least six public hearings before raising tolls.
The bills await signatures from Christie and New York Governor Andrew Cuomo, who are working on their own recommendations to overhaul the agency. A report may be released by year-end, said Port Authority Vice Chairman Scott Rechler, a Cuomo appointee.
Other lawmakers have proposed getting rid of the two-decade-old custom whereby the New York governor appoints the executive director and New Jersey governor picks the deputy executive director. The practice has divided the agency into separate camps, leading to confusion and dysfunction, the legislators said.
Sending Message
While the authority has long had a few patronage employees, their number rose under Christie, said Jameson Doig, a professor emeritus at Princeton University and author of "Empire on the Hudson," a history of the Port Authority.
Their ranks included two members of Christie's transition team, campaign donors to the governor, aides to New Jersey legislators and local and state Republican party officials.
The patronage employees found jobs at all levels of the agency, from toll collector to "director of interstate capital projects," the title created for Wildstein.
Keeping those workers on the payroll will further depress staff morale and deter talented recruits from pursuing jobs at the agency, Doig said.
"The board's failure to confront this issue sends a message to outsiders that the Port Authority may be open to more patronage hires in the future," he said. "There may be good reasons not to pursue those who were hired several years ago, but on balance, leaving them in office does send a message that is negative."
Rewarding Merit
Port Authority commissioners, six appointed by each governor, should resist political appointments to staff, Doig said.
Chris Valens, an agency spokesman, said "people at the Port Authority who are performing in their position shouldn't be penalized or discredited." The agency "believes strongly" in rewarding merit and has made performance reviews a priority, he said.
The Port Authority hired 53 people referred by Baroni's office between January 2010 and August 2014, according to a list provided by the agency. That number doesn't include three Christie administration appointees to the agency, including two that have left: Baroni and lawyer Paula Dow.
Phil Kwon, a former New Jersey Supreme Court nominee who was hired as deputy general counsel at the Port Authority, is still employed at the agency. Kwon helped prepare testimony by Baroni to a state panel investigating the lane closures. Baroni told lawmakers that the closures were part of a traffic study.
Sixteen Baroni referrals left before the September 2013 lane closures and six afterward, according to the list.
Christie Ties
Of the 31 remaining, at least 18 have political ties. Two are former aides to Christie, four contributed to his campaigns and two are former Republican mayors, according to public records, the Record newspaper and other local media.
New Jersey referrals still at the Port Authority include David Haytaian, son of Garabed "Chuck" Haytaian, a former Republican speaker of the New Jersey Assembly and former state Republican party chair. The junior Haytaian, a customer-service manager at the agency's bridges and tunnel division, earns a $107,000 salary, according to payroll records.
Robert Cressen, a former executive director of the New Jersey Republican State Committee, was paid $105,000 last year, working as a senior project manager in the Government and Community Relations department.
Rick Vander Wende, a former mayor of Waldwick in Bergen County who endorsed Christie in 2009, makes almost $95,000 as a contract manager at Teterboro Airport in New Jersey. Francis Hannan, a former gourmet food broker and former legislative aide to a Republican assemblyman, works as an $85,000 analyst in the Port Authority's treasury department.
WTC Adviser
On the New York side, Executive Director Patrick Foye's office made 15 referrals, 13 of whom remain.
They include Brett Abramson, who worked for Cuomo when he was attorney general, according to his LinkedIn profile, and who makes about $62,100 as a Port Authority lawyer. Brian Simon, a former aide to U.S. Senator Kirsten Gillibrand and U.S. Representative Gregory Meeks, both New York Democrats, makes $140,000 as the New York director of Government and Community affairs.
David Emil, a New York employee who left in May, contributed $5,000 to Cuomo in 2010 and another $2,500 in 2011, according to New York campaign finance records.
Emil, former owner of the Windows on the World restaurant atop the Twin Towers and former president of the Lower Manhattan Development Corp., made $53,300 as a senior adviser on the World Trade Center redevelopment.
Keeping Quiet
Valens didn't respond to a request to interview Moore-Abrams, Haytaian, Cressen, Vander Wende, Hannan, Abramson and Simon. Vander Wende and Abramson declined to comment for this story. Moore-Abrams, Haytaian, Cressen, Hannan, Simon and Emil didn't return telephone calls.
David Gallagher, president of the Port Authority Retirees Association, said continued employment of politically connected employees would engender suspicion from career staff about their loyalties.
"Are they really PA employees in the true sense of that word," said Gallagher. "Or are they continuing to be a communication link of some kind to others who are outside the work group?"
Staff-level hiring in the future should be solely based on merit, Gallagher said.
(A previous version of this story misstated Kwon's employment status.)
Before it's here, it's on the Bloomberg Terminal.
LEARN MORE