Pastors Join Communists as Protests Linger Over Ferguson
Toluse Olorunnipa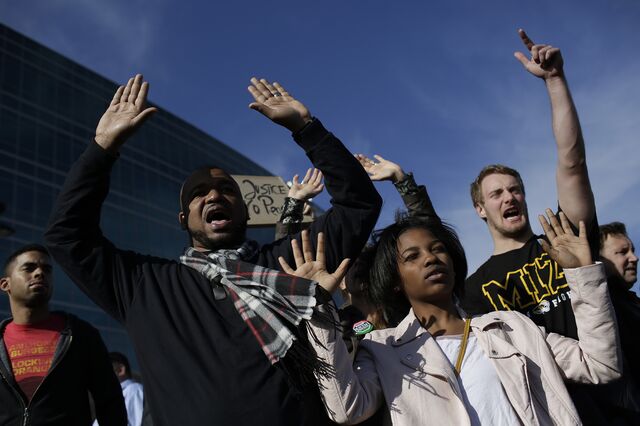 Communist Party members from New York, pastors from Atlanta and the Korean Culture Association helped form a gathering of more than 300 people over the weekend in a St. Louis church with agendas as far flung as their origins.
The activists passed around water bottles and fliers as they huddled Nov. 29 in the church basement to plan protests over the killing of a black teenager by a white police officer in nearby Ferguson. Outside, members of the National Association for the Advancement of Colored People marched past the church en route to the state capital in Jefferson City, 124 miles (200 kilometers) away.
What started as a spontaneous neighborhood protest in the hours after 18-year-old Michael Brown was killed in Ferguson has expanded internationally, drawing support from as far away as London and Hong Kong. As groups joined Ferguson-related protests over the past 114 days, they've brought new energy and resources to the movement. They've also hatched ideas, goals and tactics of their own -- sometimes at odds with the original protests over police brutality and racial profiling.
"A lot of these groups, I've never heard of," said Johnetta Elzie, 25, a St. Louis activist who was at the meeting at Greater St. Marks Family Church. "As long as everyone keeps the focus on black lives mattering, and no one tries to co-opt the movement, I'm fine with whoever wants to join."
Core Group
Elzie was among a core group of protesters who held training sessions and conference calls for weeks to prepare for peaceful demonstrations on the day the grand jury announced whether police officer Darren Wilson would be charged for killing Brown on Aug. 9. Even after those efforts, Ferguson erupted in chaos when the grand jury cleared Wilson on Nov. 24. Bands of young men broke windows and set buildings on fire, destroying several businesses.
Wilson resigned from the force in response to threats, Ferguson Mayor James Knowles III said yesterday. He will not receive a severance payment or continued benefits, Knowles said, adding that the city had created a civilian board to review police tactics and will try to recruit more officers from minority communities.
Some who gathered around a burning police car Nov. 24 wore the trademark mask of Anonymous, the online activist collective. The group, which has taken part in the Ferguson protests since August, released a video three days earlier threatening local police and saying "we are the law now." Members of the Revolutionary Communist Party have also joined nightly protests, urging demonstrators to defy police orders and risk arrest.
Limit Influence
Protest organizers have worked to limit the influence of "agitators," calling for civil disobedience instead of violence, said DeRay McKesson, 29, who publishes a daily newsletter with information about Ferguson demonstrations. Organizers have tried to shift focus from last week's unrest by staging various disruptive actions, ranging from street marches, to sit-ins to shutting down shopping malls. McKesson, Elzie and other leaders hold regular conference calls and arrange meetings like the one in the St. Louis church over the weekend.
McKesson was among hundreds of people who marched in downtown St. Louis yesterday, disrupting foot traffic during a National Football League game. Police said six people were arrested. McKesson said the decentralized nature of the movement allowed several groups to take part, bringing fresh ideas and expertise, and keeping the protests from petering out. The St. Louis County Police Department reported no arrests or incidents overnight.
Military Vehicles
Supporters from across the country -- some saying they were affected by images of police driving military vehicles through Ferguson -- have donated food and cash to support the protesters. A legal defense fund has raised almost $100,000 online, a crowdfunding tactic used by several local groups.
Missouri Governor Jay Nixon said he will call a special session of the state legislature to seek additional funding for the 2,200 members of the National Guard he deployed to the St. Louis region. The cost of responding to the protests is on track to exceed the $7.4 million budget for emergency duty by the Guard and the state highway patrol, he said.
At a recent demonstration outside the Ferguson police department, some activists solicited donations to help bail out jailed demonstrators, volunteer lawyers took notes documenting police actions and a local pastor passed around coffee and fried chicken. A handful of upstart broadcasters streamed the events to a worldwide audience via applications on their mobile phones. Throngs of journalists from across the globe attend protest events, sometimes outnumbering the demonstrators.
'Showed Up'
"The world has showed up," said Elzie. "Social media definitely has played a big part in keeping the world's attention on Ferguson."
Some protesters give credit to the people who looted and burned shops last week, saying it drew international attention to Ferguson, a town of 21,000. Kenny Thomas, a 56-year-old resident protesting outside the local police station, said "looting helps win the war."
"It wakes them up and gives them a message," Thomas said, gesturing across the street to about 75 members of the National Guard in camouflage gear. "It gives them a message that we are not tolerating anything. And anything goes--looting, burning, whatever."
Protest Activity
More than 100 U.S. cities have staged Ferguson-related protests since the grand jury said it would not indict Wilson for shooting Brown, who was unarmed. Each day, protest activity in various cities is listed on a website created by Leslie MacFadyen, 38, an activist from Philadelphia.
MacFadyen said she started the Ferguson National Response Network after participating in a conference call St. Louis pastors earlier this month. The local clergy didn't have a strategy for coordinating protest activity on a national scale, she said.
The site has become a hub for people outside of Missouri who want to participate in Ferguson-related protests. Groups have shut down mass transit in California, blocked highways in Washington and shut down shopping malls in greater St. Louis. Protesters in more than 40 cities plan to walk out of schools and businesses today, according the website.
'This Has Grown'
"This has grown from a moment to a movement," said MacFadyen, who hasn't visited Ferguson. "And part of it being a movement is that the activity needs to be sustained. There are many things that are going to be planned in the coming weeks and months."
While Ferguson protesters have galvanized the attention of the nation, the groups have been less successful in achieving long-term goals. Demonstrators' calls for a special prosecutor in the Wilson case were ignored, and Ferguson police chief Tom Jackson said yesterday he will continue to lead the force, despite protesters' calls for his resignation.
With the grand jury deliberations complete, protesters have begun to shift their focus to legislative change. A draft of 10 "demands" discussed during the meeting in the church includes new laws requiring a special prosecutor in police killings and outlawing racial profiling. The Ferguson Commission, a group created this month Nixon to make policy recommendations on those and other issues, will have its first meeting today.
Another focus will be increasing voter registration and turnout before the next election, said Elzie.
"People will be more prepared and will be more ready to vote," she said. "We need to see politicians answer for what has happened here."
Before it's here, it's on the Bloomberg Terminal.
LEARN MORE