Fed Leak Handed Traders Profitable Tip, Prompted Secret Inquiry
Craig Torres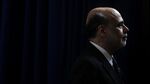 Alarms went off inside the Federal Reserve: the Fed's innermost secrets had leaked to Wall Street.
Confidential deliberations of the Federal Open Market Committee made their way into a research note circulated among traders.
The report -- a fly-on-the-wall account of the FOMC's September 2012 meeting, with hints of Fed action to come that December -- prompted a mole hunt that reached the highest levels of the central bank.
The story of the FOMC leak underscores the lengths to which outsiders will go to penetrate the inner workings of the Fed, and how valuable access can be. The Fed has never disclosed the investigation or its findings.
Public pronouncements by Fed leaders routinely move markets, and officials must walk a delicate line when discussing information. They are allowed to air their own views but are forbidden from disclosing non-public information about committee decisions.
Minutes of the FOMC, the 12-member panel that sets monetary policy, are so sensitive that an accidental leak in April 2013 caused a stir. The Fed inspector general was asked to examine how the Board of Governors handled confidential information and released a report to the public detailing weaknesses.
More recently, the question of Fed leaks has focused on the Federal Reserve Bank of New York, where an employee passed confidential information to a banker at Goldman Sachs Group Inc. That episode raised concern about ties between government agencies and the financial industry.
Medley Global
The 2012 report on the FOMC came from Medley Global Advisors, a member of Washington's policy intelligence community. Medley was founded in 1997 by Richard Medley, former chief political strategist for George Soros. Medley left the firm in 2005 and died in 2011 at age 60.
Firms like Medley try to glean information and insights about policy-making for hedge funds and other clients.
Medley issued its FOMC report on Oct. 3, 2012, one day before the Fed released its minutes. People who received the Medley report could have positioned to profit from a decline in U.S. Treasury security prices that followed the Fed's official release.
Quarantined Material
Medley is owned by FT Group, a division of Pearson PLC. Its website says its employees might receive material non-public information and goes on to say that, as far as its employees go, the firm has successfully "quarantined" such material. Neither Medley nor any of its employees have been accused of wrongdoing. Dan Bogler, president of Medley Global Advisors, said the firm had not been contacted by the Fed, and declined to comment further.
The Oct. 3 report was written by Regina Schleiger, a former financial journalist who is now a senior managing director at Medley.
At the time, unemployment was running at 8.1 percent and Ben S. Bernanke, then Fed chairman, was concerned the labor market had stalled. To spur the economy, Bernanke initiated a third round of quantitative easing on Sept. 13, announcing the Fed would buy mortgage securities at a pace of $40 billion a month.
The September meeting was a half step toward what would become one of the most aggressive moves in U.S. monetary history. The world got a hint of what was coming that December when the FOMC minutes were released on Oct. 4.
Medley clients got an early peek.
"The minutes of September's meeting will show, however, that the groundwork for further action in coming months has been laid, and that labor market improvement is unlikely to be substantial enough to stave off new Treasury purchases into 2013," Schleiger wrote in her Oct. 3 note.
Alarming Report
Schleiger's "special report," titled "Fed: December Bound," was so detailed that it alarmed Fed officials.
In a memo in early October, Bernanke asked the Fed's general counsel, Scott Alvarez, and William English, secretary of the FOMC, to investigate possible leaks, according to a person familiar with the matter, who asked not to be named because the Fed hasn't made the investigation public. Bernanke attached a copy of the Medley report.
Bernanke also asked the pair to look into sources behind a Sept. 28, 2012, article in the Wall Street Journal. The reporter, Jon Hilsenrath, had described internal documents the FOMC had used in making its decision on Sept. 13, though in less detail than Schleiger. Bloomberg LP, the parent of Bloomberg News, competes with Pearson, which publishes the Financial Times, and News Corp., publisher of the Wall Street Journal.
Officials Queried
Acting on Bernanke's order, Alvarez and English sent a letter in early November to Fed officials who might have had access to the material. That memo included a questionnaire about the recipients' contact with Schleiger and Hilsenrath.
Bernanke declined to comment, according to DJ Nordquist, a communications director at the Brookings Institution in Washington, where the former chairman is a distinguished fellow in residence. Fed spokeswoman Michelle Smith said she couldn't immediately comment. Colleen Schwartz, a spokesperson for Dow Jones, the publisher of the Wall Street Journal, declined to comment.
Normally the policy options, models and forecasts used by the FOMC are bound into a briefing manual known as the Teal Book. The Teal Book shows how FOMC members' disparate views might to come together in a consensus.
The Teal Book and Fed meeting transcripts are kept secret for five years. After monthly FOMC meetings, the Fed releases a short public statement. Three weeks later, the meeting minutes provide more detail.
Quantitative Easing
The third round of quantitative easing was unlike the previous two, which had been prescribed by numeric totals. The new one was open-ended, pegged to "substantial improvement in the outlook for the labor market," Bernanke said at his press conference after the September FOMC meeting.
At that conference, Bernanke was emphatic about the need for action.
"The weak job market should concern every American," Bernanke said.
On Wall Street, Bernanke's plan stirred concern that the Fed might fuel inflation, driving up long-term yields in the bond market.
On Oct. 3, the date of Schleiger's note, yields on 10-year Treasury notes closed at 1.61 percent. In the days after the Fed minutes were released, prices fell and yields rose to 1.74 percent. Traders who saw Medley's report could have profited by betting against Treasuries.
In her note, Schleiger said the FOMC would add $45 billion of Treasury purchases to quantitative easing in December, as many market participants expected.
Fed's Thresholds
Few Fed watchers said the Fed would quickly adopt what became known as "thresholds," conditional pledges to keep the benchmark interest rate between zero and 0.25 percent until certain targets for inflation and unemployment were met. The idea behind thresholds was to give investors a way to predict when the Fed would begin to consider raising rates.
Many Fed watchers considered divisions on the FOMC too strong to seal the deal on thresholds by December.
"There's disagreement about the specifics," James Hamilton, a professor of economics at the University of California, San Diego, told Bloomberg News on Oct. 5.
Readers of Schleiger's note knew more.
"It is not unusual for board staff to pull all-nighters working on the final draft of the policy recommendations," she wrote, and then provided a detail about how the September meeting came together. "This one took until after midnight."
The report went on to explain that policy recommendations are called "primes" among Fed staff who work at the Board of Governors' offices on Constitution Avenue in Washington.
Conditional Guidance
"Within one of the 'primes' was included a proposal to denote conditional guidance around employment and inflation conditions under which the committee might consider withdrawal of policy accommodation," Schleiger wrote.
"With Minneapolis Fed president Narayana Kocherlakota's input, a 6.5 percent (as opposed to 5.5 percent later trailed publicly) unemployment threshold was floated in print as a trial balloon," she said.
Schleiger wrote that Fed leaders "knew this would not get anywhere that day, but it served to propel" a debate.
"It has also implied a degree of inevitability over the Fed deciding to put numerical conditionality around its forward guidance on rates," she wrote.
Treasury Purchases
That December, Fed officials began buying Treasuries at a pace of $45 billion a month, a sign that they were determined to hold down long-term interest rates to help boost the economy. The FOMC said the short-term policy rate would be held at about zero as long as the unemployment rate remained above 6.5 percent and the outlook for inflation was no higher than 2.5 percent, as Schleiger had described.
In their November memo, Alvarez and English asked officials to disclose any communications with Schleiger and Hilsenrath, and to hand over e-mail and phone records. Under Fed rules, the general counsel and FOMC secretary investigate if the chain of confidentiality is broken and report their findings to the chairman.
The Fed has never disclosed the findings.
The Fed's general counsel can also ask the Fed inspector general to investigate breaches. No specific mention was made of an inspector general investigation into the 2012 FOMC leak in that office's 2013 reports to Congress.
John Manibusan, a spokesman for the inspector general, declined to comment.
Fed Expands Asset Buying, Links Rates to Joblessness, Prices 
Goldman Fires Bankers After Getting Confidential Fed Info
Goldman Sachs Policy Lapse Spurred Fed Firing, Examiner Says
Before it's here, it's on the Bloomberg Terminal.
LEARN MORE