Globe-Trotting Vale CEO Faces Wall Street as Iron Plunges
Juan Pablo Spinetto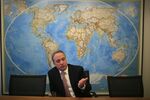 Vale SA's chief executive officer says he travels so much that the mining company's executive jet is among the most flown in Bombardier Inc.'s fleet this year.
"I like to visit all our operations at least once a year but normally I go more than that," Murilo Ferreira said in an interview at the company's Rio de Janeiro headquarters on Nov. 26. "I travel a lot, a lot, a lot," he said in a weary tone.
Ferreira, 61, will board his Global Express XRS jet to visit investors in New York and London this week, adding to the more than 240,000 kilometers (149,000 miles) flown in the first 10 months of 2014. On the agenda? How the world's largest iron-ore producer will adapt to a collapse in the price of the commodity that prompted analysts to have the bleakest opinions about the stock since at least 1999.
Vale is producing iron ore at a record pace and its base metals unit -- which for years experienced delays, accidents and stoppages -- is finally starting to contribute to profits. Yet expanding global supply at a time of slowing demand in China, the largest consumer of metals, has pushed down prices of the steelmaking raw material to the lowest in more than five years and made Vale the worst performing major mining stock.
The reaction from Vale, as with other mining companies, has been to cut costs, put lower-return expansions on hold and focus on its most profitable businesses. The company probably will announce tomorrow a $10.4 billion budget for next year excluding research and development expenses, the lowest since 2009 and 25 percent below last year's approved capital expenditures, according to the average of nine analyst estimates compiled by Bloomberg News.
Price Strategy
Vale will use the meetings in New York and London to try to convince investors it can adapt to the lower price environment, announcing further cost cuts and providing updates on asset sales, said Mariana Bertone, an equity analyst at GBM Grupo Bursatil Mexicano SA.
"Either they present a strategy to deal with this scenario or the share price will take time to recover," she said by telephone from Sao Paulo. "It's very unlikely that iron-ore prices return to the $90 per ton in the short term."
Shares of Vale slid 4 percent to close at 19.20 reais in Sao Paulo today and have lost more than 40 percent this year. Iron ore fell to $71.11 a dry ton today, close to the lowest in more than five years, according to a price index compiled by Metal Bulletin.
Lower Dividend?
Earnings before interest, taxes, depreciation and amortization are expected to drop to $15 billion next year, less than half the company's 2011 record, according to data compiled by Bloomberg. That leaves less cash for dividends, which Vale has been reducing since a record $12 billion in 2011, including a $3 billion share buyback, to this year's $4.2 billion.
"We believe Vale will announce a reduction in its nominal dividend and state its target for an attractive yield," Credit Suisse Group AG analysts led by Ivano Westin said Nov. 27 in a research note. "We are supportive of the management's efforts, but lower commodity prices probably will ultimately thwart those measures."
The Credit Suisse analysts forecast a cut of Vale's minimum dividends next year to $2.5 billion, which may be higher if the company includes asset sales, the note said.
CEO Ferreira declined to comment on dividends during the interview, saying the company will announce its target for 2015 at the end of January. A lighter project load, currency depreciation and better contractor terms will allow Vale to present a lower budget plan for 2015 compared with this year, he said, declining to discuss specific targets.
Recovering Prices
"As a number of projects are being concluded, we will have a reduction in the capex," Ferreira said. "The market is not so heated, therefore the conditions to negotiate with contracted suppliers is more favorable to the buyers."
Vale cut investments to $8.23 billion in the first nine months of 2014, 21 percent less than in the same period last year, it said Oct. 30. The miner expects to complete 2014 spending $1 billion to $2 billion less than the $13.8 billion budgeted for the year, Chief Financial Officer Luciano Siani said during a conference call that day.
Fortescue Metals Group Ltd., the world's fourth-biggest iron-ore exporter, said Nov. 28 it cut its full-year spending plans by half, joining rivals including Rio Tinto Group and BHP Billiton Ltd. in cutting expenditures amid tumbling prices.
Deferred Plans
Rio, the second-biggest mining company, deferred plans to approve a new $1 billion Australian iron-ore mine and lowered its 2014 expenditure estimate. BHP, the world's largest, on Nov. 24 announced capital outlays will drop to $13 billion in fiscal 2016, down more than 40 percent from 2012.
Vale expects iron-ore prices to return to an average range of $85 to $90 next year, after losing 47 percent this year, as Asian infrastructure demand improves and high-cost mines close, Ferreira said.
Less than 26 percent of analysts recommend buying the company's American depositary receipts, the fewest since at least late 1999, according to data compiled by Bloomberg. The stock is rated neutral by 58 percent of analysts, while 16 percent of analysts recommend selling the shares, the data show.
Bombardier declined to comment on customers' flying profiles, citing privacy regulations.
Vale is scheduled to discuss its strategy, including next year's budget and output target as well as project updates, at meetings with investors in New York and London tomorrow and Dec. 5, respectively.
(For information on Vale Day 2014, click here.)
Before it's here, it's on the Bloomberg Terminal.
LEARN MORE