Analyst: Hillary Clinton 'Lost Her Fastball,' and Jeb Bush Won't Likely Win
Just when it seemed there was unanimous consent about a Clinton White House bid, even doubts are getting debunked.
By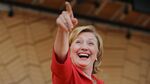 These days, when Hillary Clinton says she's still deciding whether to run for president in 2016, she does so with a smile that seems almost like a silent apology for the absurdity of her non-answer.
For months, all signs have pointed to an inevitable White House bid for the former secretary of state, senator and first lady. On Sunday, it looked like there might be at least one person of note who is having serious doubts about whether it is a lock that Clinton will run for president. Now even that has been called into question.  
An account of remarks attributed to Charlie Cook, whose Cook Political Report newsletter is among the country's most trusted for campaign analysis, was published in the Kansas City Star, describing him as telling a local audience recently that he believes Clinton has a 25- to 30-percent chance of jumping into the race.
Columnist Steve Rose did not specify exactly when or where the private event took place, but said Cook knew he was in attendance and that the statements were on the record. But Cook, who could not be reached by phone or e-mail for comment, took to Twitter and denied making the claim. 
In an e-mail on Sunday evening, Rose clarified that he misheard Cook, who instead said that Clinton had a 25- to 30-percent chance of passing on a White House bid.  
Cook, whose correction focused on the likelihood that Clinton would not run, apparently cited her recent book tour performance as reason to believe that she is either "rusty" or "she lost her fastball," according to the Kansas City Star. 
A presidential race without Clinton, who has held huge leads in primary-voter polling, could be devastating to the Democratic Party, which does not have the same deep bench of potential candidates as Republicans.
Cook also apparently predicted that the next GOP nominee will likely be a governor from the Midwest or a Tea Party senator, two categories, of course, that leave out Jeb Bush. Should the former Republican governor of Florida and potential 2016 contender decided to run, Cook said a GOP primary electorate will balk at two issues that Bush has supported.
"One is immigration reform, which he favors," Cook reportedly said, "and two, is his advocacy of education reform."