Giuliani Gives Ferguson Argument Another Go
The former New York mayor stood by his assertion that African Americans bear the responsibility for the violence plaguing communities like Ferguson, Missouri.
By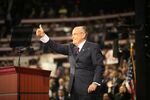 Try, try again. After a week-long intermission, Rudy Giuliani presented Act Two of his argument about violence in African American communities on the weekend airwaves.