Deval Patrick Warns Democrats Against Prematurely Anointing Hillary Clinton
The outgoing Massachusetts governor said President Barack Obama could have touted his record better and that more Democrats should have embraced it.
By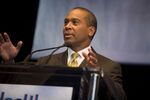 The roster of Democratic presidential candidates in 2016 won't include Deval Patrick.
"I've thought about it, but no, I can't get ready for 2016," Patrick, the outgoing two-term governor of Massachusetts and its first black chief executive, said Sunday on NBC's "Meet the Press."
Former Secretary of State Hillary Clinton has a big early lead in preference polls of Democratic voters, and Patrick praised the former Secretary of State while warning that the nomination process should not come across as a coronation.
"Secretary Clinton has been an extraordinary public servant and would be a terrific candidate for president," Patrick said. "But I think that the narrative that it's inevitable is off-putting to regular voters."
"I don't mean that as a criticism of her; I just think people read inevitably as entitlement," he said. "And the American people want, and ought to want, their candidates to sweat for the job, to actually make the case for why they're the right person for the right time."
Patrick, who led one of the nation's most Democratic-leaning states for eight years, said it was a "huge mistake" for some Democratic candidates to distance themselves from President Barack Obama ahead of the Nov. 4 elections. Republicans made a net gain of at least eight seats in the Senate elections, buoyed by a map dominated by Republican-leaning states where Obama was unpopular.
Patrick said the president could have done a better job accentuating his administration's accomplishments.
"One problem, I think, that the president has is that he doesn't tell that story very well or very regularly," said Patrick, who will be succeeded by Republican Charlie Baker.
Patrick is close to Obama, who said in March that the Massachusetts governor "would make a great president or vice president" but was likely to take "a little bit of a break" after the election.
Patrick said that he disagreed with New York Democratic Senator Chuck Schumer's comments last week that Democrats erred by focusing early in Obama's presidency on health care rather than on boosting wages and pulling the economy out of recession.
"You ask somebody who is not insured and is sick, or someone who is getting buried by health care-related debt whether health-care reform makes a difference, and they will tell you that it does make a difference," Patrick said.