'Hunger Games' Collects $57 Million to Lead Box Office
Anousha Sakoui and Drew Armstrong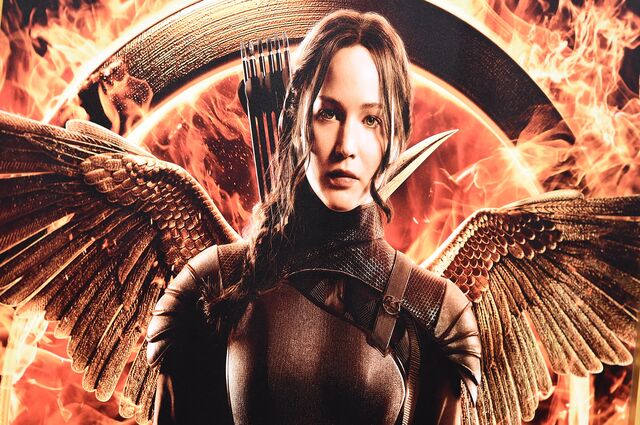 Katniss Everdeen and her band of revolutionaries led the box office over a slower Thanksgiving holiday, as the latest "Hunger Games" film from Lions Gate Entertainment Corp. garnered $57 million at domestic cinemas.
"Penguins of Madagascar," from DreamWorks Animation SKG Inc. and 21st Century Fox Inc., made its debut with sales of $25.4 million in U.S. and Canadian theaters to place second, researcher Rentrak Corp. said today in a statement. "Horrible Bosses 2," from Time Warner Inc.'s Warner Bros., opened with revenue of $15.5 million to place fifth.
The holiday weekend typically ranks as one of the biggest of the year for box-office receipts. Last year's "The Hunger Games: Catching Fire" was the top-grossing film of the season and helped produce a record $208.1 million for the three days, exceeding this year's $151.9 million, according to Rentrak.
"As has happened so many times this year, we've had tough comparisons to a year ago," Paul Dergarabedian, an analyst with Rentrak, said in a telephone interview. "Thanksgiving 2013 was a very tough act to follow."
This year's five-day holiday period is estimated to have $230 million in ticket sales, Rentrak said.
"Mockingjay -- Part 1" has generated $226 million in total box-office sales since its Nov. 21 release, Rentrak said. Less-enthusiastic reviews and bad weather, along with the film not being shown on more expensive Imax Corp. screens, pressured the debut. The film generated less in its opening than the first two episodes.
Family Comedy
"Taken on its own, for 'Mockingjay -- Part 1,' it's a great performance," said Dergarabedian. Over the five days from Wednesday night to Sunday, the film collected an estimated $82.7 million.
"Penguins of Madagascar," an animated, family comedy from DreamWorks Animation's "Madagascar" series, was projected by BoxOffice.com to collect $35 million from Friday to Sunday. The film opened on Nov. 26, ahead of Thanksgiving, and took in an estimated $36 million over five days.
Movies that opened over the weekend faced strong competition, though "Penguins of Madagascar" and others will keep playing through the holiday season, said Dergarabedian. "Some were anticipating higher numbers for those, but in the longer term those will be fine."
In the Penguin spy tale, Skipper, Kowalski, Rico and Private join forces with the chic spy organization, the North Wind, led by Agent Classified, to stop the cunning villain Dr. Octavius Brine from taking over the world. John Malkovich and Benedict Cumberbatch supply two of the starring voices. The film received 68 percent positive reviews, according to Rottentomatoes.com, which aggregates critics' opinions.
'Injection of Sugar'
"'Penguins of Madagascar' is an injection of sugar direct to the pineal gland and woe betide any parent who tries to get their children to take a nap after seeing it," Jordan Hoffman wrote in the Guardian newspaper.
"Horrible Bosses 2," the sequel to the comedy of the same name, was also released Wednesday. Boxoffice.com predicted the movie would generate $25 million over the weekend.
In the follow-up to the 2011 "Horrible Bosses," Jason Bateman, Charlie Day and Jason Sudeikis reprise their roles as hardworking employees Nick, Dale and Kurt. Jennifer Aniston and Jamie Foxx also return to their roles, with Chris Pine of "Star Trek" and Christoph Waltz of "Django Unchained," featured as new adversaries of the diligent trio.
Tired of Work
Tired of answering to their bosses' whims, Nick, Dale, and Kurt start their own businesses in this sequel. They soon have their plans hobbled by a savvy investor who outplays them. The new entrepreneurs plan to kidnap the investor's son to regain control of their company.
"Horrible Bosses 2" received 36 percent positive reviews at Rottentomatoes.com, compared with 69 percent for the original.
Weekend sales for the top 10 films fell 20 percent to $151.9 million from $189.5 million a year earlier. Sales for the year to date have declined 4.3 percent to $9.44 billion.
The following table has U.S. movie box-office figures provided by studios to Rentrak. The amounts are based on gross ticket sales for Nov. 28 to Nov. 30.
                    Rev.    Pct.             Avg./   Total
Movie              (mln)    Chg.  Theaters  Theater  (mln)  Wks
===============================================================
 1 Hunger Games    $57.0    -53    4,151  $13,725   $225.7    2
 2 Penguins         25.4     --    3,764    6,761     35.4    1
 3 Big Hero 6       18.8     -6    3,365    5,592    167.2    4
 4 Interstellar     15.7      3    3,066    5,135    147.0    4
 5 Horrible Bosses  15.5     --    3,375    4,580     22.8    1
 6 Dumb And Dumber   8.4    -41    3,130    2,670     72.2    3
 7 Theory Of Every   5.0    231      802    6,248      9.5    4
 8 Gone Girl         2.5    -13    1,174    2,100    160.7    9
 9 Birdman           1.9      1      710    2,640     17.2    7
10 St. Vincent       1.7    -24    1,251    1,363     39.3    8



Top 10 Films Grosses



   This Week     Year Ago      Pct.
     (mln)         (mln)       Chg.
===================================
    $151.9        $189.5       -20



Year-to-date Revenue



     2014          2013
      YTD           YTD        Pct.
     (mln)         (mln)       Chg.
===================================
    $9,440        $9,863      -4.3

Source: Rentrak Corp.
Before it's here, it's on the Bloomberg Terminal.
LEARN MORE