'She Will Go On to Support Barack Obama 97 Percent of the Time!'
A black conservative PAC piles on Mary Landrieu.
By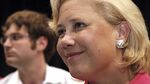 Senator Mary Landrieu's chances of survival in the Louisiana runoff depend on two things: High turnout from black voters, and a little less rejection from white voters. Since the runoff started through the early voting period, the Louisiana Democratic Party attempted to inspire black voters with targeted radio ads about the need to send an Obama ally to Washington.