'She Will Go On to Support Barack Obama 97 Percent of the Time!'
A black conservative PAC piles on Mary Landrieu.
By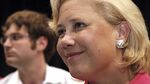 Senator Mary Landrieu's chances of survival in the Louisiana runoff depend on two things: High turnout from black voters, and a little less rejection from white voters. Since the runoff started through the early voting period, the Louisiana Democratic Party attempted to inspire black voters with targeted radio ads about the need to send an Obama ally to Washington. 
Early voting is almost over. That's created an opening for the Black Conservatives Fund PAC, a Virginia-based group that's spent around $200,000 on 2014 races and uploaded video of Landrieu's chief of staff, Donald Cravins, psyching up black Democrats by hyping Landrieu's voting record.
"I'm asking you tomorrow to go out and vote for Senator Landrieu," Cravins says in the tape. "She will go on to support Barack Obama 97 percent of the time!"
It's a jujitsu reversal of the "97 percent" attack that Republicans have deployed against Landrieu and other red-to-purple state Democrats all cycle. And it's quite the messaging shift; right after the Nov. 4 election, when early voting was going on, the Fund was advertising to black voters along the lines that Elbert Guillory was—telling them that the Democrats took them for granted.
Whatever works.