Oil Price Slump Kills Greenland Independence Hopes Amid Election
Peter Levring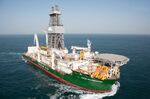 Less than half a decade ago, Greenlanders were imagining the riches that would follow an oil bonanza as the price of crude approached $150 a barrel. That wealth was supposed to buy the island independence from Denmark.
Yesterday, with oil trading at less than $75, well below levels that would make exploration off the world's largest island profitable, Greenlanders cast their votes for a new home-rule government after the previous administration collapsed amid an expenses scandal.
"People in Greenland always ponder how to achieve economic independence from Denmark," Ulrik Pram Gad, a post doctoral political scientist at the University of Copenhagen, said in an interview. "People are just realizing that things will take longer; nobody knows how to fund the economy without oil and mining."
The hyperbole around Greenland's prospects of becoming a commodities exporting nation that would turn its citizens into millionaires has come and gone in cycles. Explorers approached Greenland after the oil crises of the 1970s, only to abandon the island for three decades. In 2010, Cairn Energy Plc returned but didn't make any commercial finds after spending more than $1 billion during two years of drilling.
"It's safe to say that oil and mineral prices have to rise a lot from the current levels before something happens," Torben M. Andersen, a professor of economics at the University of Aarhus and head of Greenland's Economic Council, said in a telephone interview. "Oil exploration could produce a lot of revenue for the Greenlanders, but it's so far into the future it'll be dangerous if that promise blocks out other issues."
London Mining
The island's other commodities have also failed to lead to riches. A dramatic fall in iron ore prices and the Ebola epidemic sent London Mining Plc into reconstruction before the company was able to develop its $2 billion Isua iron-ore project north of Greenland's capital Nuuk.
As the 58,000 Greenlanders who inhabit an island three times the size of France wait for their commodities to be converted into cash, successive governments have failed to create an economy that can survive without outside support.
Yesterday's election was called in October after Prime Minister Aleqa Hammond resigned following revelations she used government money to cover personal travel expenses. She was elected into office 21 months earlier on a pledge to guide Greenland toward independence.
Greenland's Siumut party, which Hammond had led, will continue as the island's biggest after yesterday's vote, according to results posted on the website of valg.gl.
"Everybody agrees that something needs to be done to fix the economy but nobody seems to care about that before the election is over," Pram Gad said.
Danish Money
A main task of the next administration will be to oversee an annual subsidy from Denmark of 3.6 billion kroner ($604 million) needed to keep the economy afloat. The economic support is a hangover from two centuries of Danish colonial rule of the predominantly Inuit territory.
While Greenlanders contemplate "jaws" -- the local term for the growing shortfall between government revenue and expenditure -- oil prices have continued their descent and made the prospect of profitable exploration less tenable.
The government has awarded licenses to a list of oil companies that includes BP Plc, ConocoPhillips, Royal Dutch Shell Plc., Dong Energy A/S and Statoil ASA. The U.S. Geological Survey estimates there could be as much as 50 billion barrels of oil and gas beneath Greenland's waters.
Dong Energy A/S, Denmark's state-controlled utility, says it's still impossible to say whether exploration around Greenland will ever result in actual finds.
"It's uncertain whether we'll ever start to drill there," Jan Terje Edvardsen, head of research at Dong, said in an e-mailed response to questions.
Before it's here, it's on the Bloomberg Terminal.
LEARN MORE