Does a Generation Burdened by Debt Care About Government Spending?
Democrats and Republicans would do well to talk about the federal deficit. No, seriously.
By and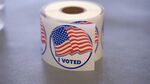 The political arguments for reducing the national debt often focus on the disastrous results awaiting our children and grandchildren. But do the kids even care?