Ken Lewis Selling South Carolina Island Getaway at a Loss
Max Abelson and Oshrat Carmiel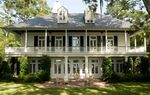 Kenneth D. Lewis, who retired as Bank of America Corp.'s chief executive officer after the housing crisis almost toppled the firm, is selling a South Carolina island home for less than it cost 12 years ago.
"Unfortunately, we did not get there as much as we would have liked," Lewis, who hasn't given many interviews since leaving the bank in 2009 after a $45 billion taxpayer bailout, said by e-mail. "Spring Island is one of the most beautiful locations in the country if you like the low country, which I do."
The house is in contract to sell for about $2.5 million, its most recent asking price, according to listing broker Sally Papineau at Spring Island Realty. Lewis, his wife and another couple spent $3 million in 2002, public records show.
They'll be leaving a plantation-style house with three bedrooms, a wraparound porch, three wine coolers, solid-mahogany doors and floors of "antique limestone imported from a French chateau," according to its listing. Views include "changing tides, marsh wildlife and spectacular sunsets."
Spring Island is a 3,200-acre (1,300-hectare) private club focused on the arts, nature and sports, according to Spring Island Realty's John Strother. He said a $125,000 fee homeowners pay to join, plus $19,200 of annual dues, get them access to a golf course, skeet shooting, an on-staff fishing guide who can explain how to shrimp or catch flounder, and access to a vegetable garden currently growing kale and collard greens.
"The downside to the location is that it is pretty remote, so you don't get a lot of traffic when you want to sell it," Lewis said.
Old Plantation
Bank of America, based in Charlotte, North Carolina, has booked more than $70 billion in expenses tied to home loans, mostly stemming from Lewis's takeovers of Countrywide Financial Corp. and Merrill Lynch & Co. at the depths of the financial crisis. He agreed in March to a three-year ban on serving as a public company's officer as part of a $10 million settlement with New York's attorney general on claims he misled investors about the impact that Merrill's purchase would have on earnings.
The house, whose sale was reported yesterday by the Wall Street Journal, is on a street called Duck Pen Court. Lewis, 67, isn't sure how it got the name.
"The property was once a plantation so it might have been where they kept the duck pens," he wrote. "But I actually don't know."
Before it's here, it's on the Bloomberg Terminal.
LEARN MORE