China's Plan to Export Pollution
The biggest steelmaking province plans to move some of its plants
By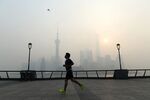 China's Airpocalypse, the lung-choking pollution that regularly blankets the country's north, including Beijing and the port city of Tianjin, has an obvious source: emissions from the belching smokestacks of neighboring regions, in particular Hebei province. Now authorities say they have come up with a way to address the industrial pollution that accounts for as much as three-quarters of dangerous particulates in the air: Move polluting factories overseas.
Hebei authorities have announced plans to relocate some of the province's steel, cement, and glass production to Africa, Latin America, Eastern Europe, and other parts of Asia. Capacity for 20 million tons of steel and 30 million tons of cement will be moved overseas by 2023, the official Xinhua News Agency reported on Nov. 19.
Hebei Iron & Steel, China's largest producer, has already started the move. In September the company, which is based in Tangshan, 92 miles east of Beijing, said it will build a plant capable of making 5 million tons annually in South Africa. Hebei Iron plans to start operating there in 2017 and is likely to shut mills in Hebei. "The West outsourced its pollution to China, mainly light manufacturing," says Tom Miller, senior Asia analyst at researcher Gavekal Dragonomics in Beijing. "Now China has got to the point in development where it wants to start exporting pollution, too, by building steel and other factories in poorer countries."
The authorities know they can't begin to solve the smog problem without cleaning up Hebei, home to seven of China's most polluted cities and a top emitter of sulphur dioxide, nitrogen oxide, and dust. The province is China's largest steelmaker, able to produce 200 million tons a year, one-quarter the national total and twice the size of the U.S. industry, says Miller.
The industrial shift abroad is meant primarily to fight pollution, but China's leaders see an important added benefit: "The initiative comes at a time when local steel, cement, and glass producers are struggling, with sluggish growth in the world's second-largest economy crippling demand for their products. In many cases, it has led to severe overcapacity," reported Xinhua News.
China's policymakers say that past reliance on industrial investment has saddled the country with problems today. China's "traditional, extensive way of seeking growth has been proved unsustainable," warned Premier Li Keqiang during a speech in Tianjin in September. "We will eliminate overcapacity," he told an audience of multinational and Chinese company executives.
Curbing the growth of China's industrial base will help contain total government debt, which exceeds 206 percent of gross domestic product. "One major reason these factories are still pumping despite all their problems is because they are connected to local governments," says Andrew Polk, senior economist at the Conference Board's China Center for Economics and Business.
Companies, often controlled by local governments, borrow at cheap rates from banks to build more mills and factories. The newly erected plants keep borrowing to stay in operation. A prime customer for all the excess steel, glass, and cement is the real estate sector, which has built too many malls, office buildings, and apartment houses. Concerns that a wave of defaults could hit companies and local governments have increased as bad debt grew 10 percent last quarter, the biggest rise in five years.
By cutting back on factories, China's policymakers could free up capital for entrepreneurs who are trying to build a new economy that provides services to consumers. Last year domestic consumption accounted for about 35 percent of GDP, compared with almost 70 percent of U.S. GDP.
Earlier efforts to reduce excess production through factory closures in Hebei and other provinces have had limited success. Local governments resisted the shutdowns, which would have lowered local tax revenue and cost jobs, points out Dragonomics' Miller: "For these places like Hebei, it is going to be very, very tough." The doubters question whether many countries would welcome what are likely to be China's dirtiest, least-profitable industries. Says Polk: "If they are just moving what is a money-losing business in China to another place, that's not going to work. Why would another country want to welcome these zombie companies anyway?"
BOTTOM LINE -
The bottom line: To cut pollution and rebalance its economy, China wants to move factories abroad and shutter excess capacity at home.
Before it's here, it's on the Bloomberg Terminal.
LEARN MORE